Company News
How far can you go to keep a puppy Safe?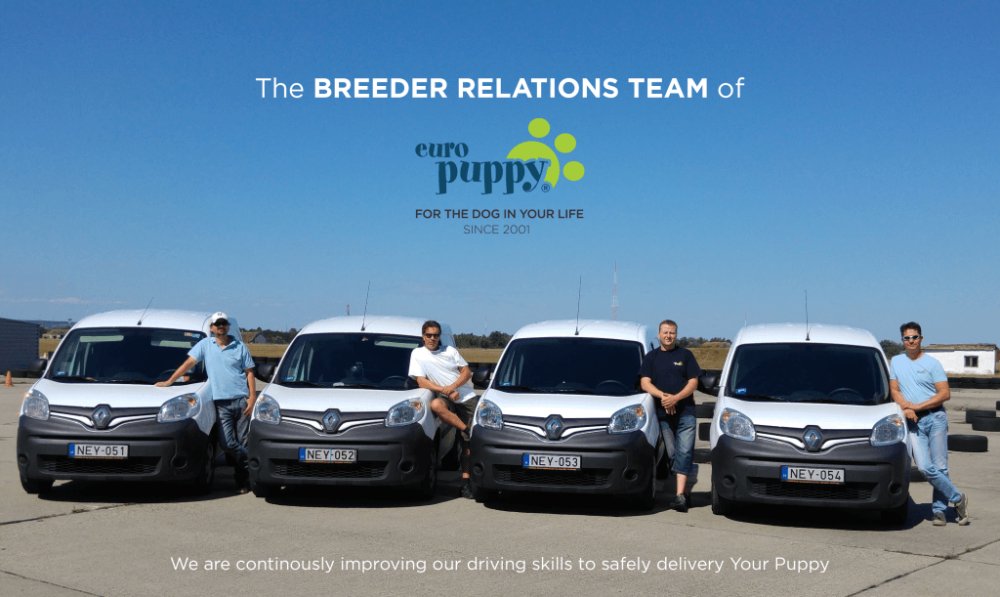 Euro Puppy is dedicated to helping you find and receive the most beautiful, purebred puppies, to make your home complete. Doing this is no simple matter, we are talking about living, breathing bundles of joy after all.
One of the most important steps is of course, safely getting the puppy to you!
Euro Puppy has a dedicated 'Breeder Relations' team, that is involved in every matter with the breeder, whether discovering new expert breeders, visiting puppies, or picking them up ready for delivery. We take the business of delivering these furballs very seriously, often they travel with us hundreds of kilometres, whether to the airport, or to a pickup point with their new family. That is why our 4 member team, alongside our CEO Sandor, and our Operations Manager Tibor embarked on a fun and challenging day of road safety practice! The team traveled to the old, unused airport of Tököl, just outside Budapest, with it's long concrete runways, perfect to test their safety mettle! In our very own series of vans, and Sandor in a 4 by 4, they took up the challenge of proving they can keep those pups safe on the road! After an hour back in the school classroom reading up on the basics, the guys heading out to their cars. Thats when things got physical! The challenges included -
Driving ability under different road conditions
Rapid turns on a slippery surface
Sudden emergency stops and unexpected obstacles
Hard braking while turning
All in the name of puppy safety! How about that for going
the extra mile!
For all the guys involved it was a fun and enjoyable day, and they certainly learnt a few new things. It was especially exciting to see what was going on right next door, where people from all around the world were partaking in Hungary's no.1 'Drifting Destination'! For those not in the know Drifting is a motor sport, where the driver goes to the extreme, and uses the throttle, brakes, clutch, gear shifting, and steering to keep the car in a state of over steer throughout the course.
To the accompaniment of screeching and exhaust smoke and many many tire marks, enthusiasts negotiated this track with their cars going super fast and practically sideways! It is certainly a great way to test your mettle, but also to learn how to stay in control of your car.
But fear not dog lovers, we won't be doing any drifting with puppies in our vans!