Dog health
Is Authority Dog Food Grain-Free
This is a Sponsored Post...
All dog foods have different nutritional profiles based on their formulations. It is, therefore, essential to choose one that supports the health system of your dog. When it comes to your canine friend, it is best not to leave anything to chance, dogs are different, and each has its unique needs. It's the owner's responsibility to ensure identify these needs and find the perfect food option for them.
Since 1995, Authority dog food has worked towards providing a breed of dogs with delicious and quality nutrition food options.
Authority dog food was formulated by a group of vet nutritionists dedicated to providing a high balanced diet for dogs.
The company has a dog food grain free line with seven recipes for owners in need of formulas that are less prone to allergy reactions.
The grain-free products are designed to improve the health and wellbeing of dogs. For dogs that experience multiple allergies, the grain-free option is not only nutritious choice but also one that reduces sensitivity and gut complications.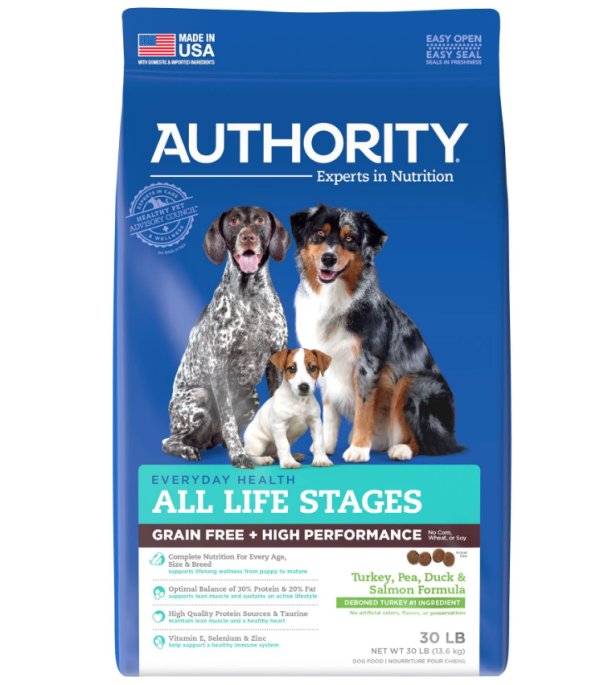 Grain-free products from Authority are multi-nutritional, thus promoting the health in pets. Apart from the nutritional benefits, the flavour is delicious, allowing the pet to enjoy the meal. There are many upsides of using Authority dog food Grain free formula.
Benefits of Authority Dog Food
The Ora shield system used to formulate the dog food promotes oral health eliminating bad breath and ensuring your pet has a healthy smile. Also, the product has a crunchy texture that discourages any build-up of food particles in the teeth, thus reducing plaque and tartar.
Omega 3 and Omega six fatty acids incorporated in the dog food formula will help nourish healthy skin and also ensure the dog has a shiny coat.
The first ingredient used in the meal, which is chicken is high in protein. The high protein levels in the food are essential for building lean muscles and appropriate weight. Prebiotics and presence of fibre infused in the formula improve digestion.
The vitamin E, selenium and zinc and other antioxidants present in the grain-free meal help support a healthy immune system.
Authority dog food formula is blended with pumpkin, a stretchy starch which ensures the digestive and urinary tract is maintained.
There are no food colour or artificial preservatives used in the product. Extensive consumption of dog food with non-natural additives has severe side effects.
Although it is a dry product, the grain-free authority dog food can be served dry or moistened with water. Either way, it is easy to chew. It makes it friendly for the small breed dogs.
If your dog has a sensitive stomach, Authority grain-free dog food is a suitable meal option. Unlike incorporating grains like wheat and brown rice which are easy to digest, grain-free products contain meat products. Meat proteins support healthy digestion in canines. Grain-free authority grain food is the right meal choice for dogs of all ages and sizes. The options available are also formulated to fit the needs of dogs at different life stages.