Euro Puppy's References
Feel free to browse the many hundreds of testimonials we have received from happy dog owners all over the world. This, of course, would not have been possible without the awesome breeders we work with. The letters below reflect all the love and care they put into breeding and raising their puppies. The service we provide is the cherry on the cake.
Dear Sandor, Sorry it's taken me a week to send you a photo. But Rodney can be a handful when he wants to. This photo was taken on October 21 it's his first bath , he was not to happy about it. My dad held him in the sink so I could take the picture. My dad is just so in love with him too. At first he was not sure of me getting a puppy off the internet. But […]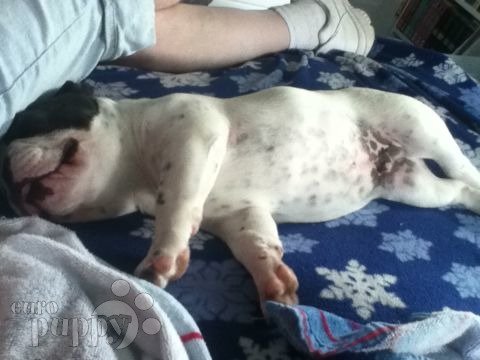 Hi Steve Jinx is doing great ! I want to thank everyone at euro puppy for another great puppy . The first time I was looking for a French Bulldog , I knew I wanted a black and white pied . I looked at a lot of websites . No one had any ,then I came to a website that had lots of pictures of puppies and their prices ! I took one look at Rodney (his name was Eric […]
Adopt from Euro Puppy to have your very own dream puppy
that will complete your life!