Euro Puppy Reviews
We have more fantastic, and fun reviews on our Facebook Page and the Euro Puppy Club on Facebook. Have a look now at our most recent photos, videos and stories sent to us by Euro Puppy dog owners; loving life with their Euro puppy.
Friendly Hello, I am enclosing a photo of Chance. He is doing wonderful. We took him to his first adult dog show. He took 1st place, BOB (best of breed) and Best Male. He has a total of 25 points towards his conformation Championship. If you could email the breeder his photo I would appreciate it. You are more than welcome to use on your website as we are a very happy customer. Many Blessings, Rev Kelly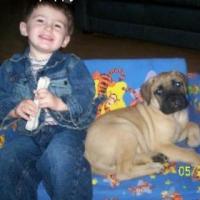 Hello Sandor and Eddie, I am enclosing a picture for you. This is my littest man Michael with our new family member Chance. I want to say once again a special thanks for getting this little puppy to us as quickly as possible. We are 100% happy with him. We are looking forward to putting him in the show ring.I look forward to doing business with you again in the future. Kelly from Michigan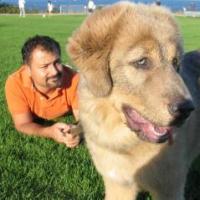 Hi Sandor. Just a follow-up to send you a few pictures (more to follow) of Gina enjoying her Santa Barbara home. Please be sure to share these with Gina's breeder. Gina is so happy in her environment and absolutely loves running along the beach and playing in the water. Everyone that meets her adores her personality and spunk; she is a healthy and beautiful girl. My life has been enriched with so much activity and fun since her arrival. I […]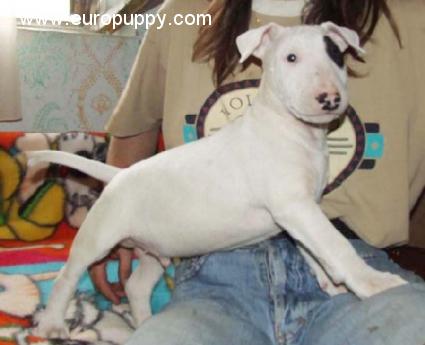 Hello! I picked Samer up at the airport yesterday, when we let him out of the crate he was just a bundle of energy!! I swear he's part frog! When we got home we played with him in the yard, he really likes tennis balls! Then Samer got a bath, and I was so surprised at how well behaved he was. From the pictures you see, after that, Samer was pretty tired after that. Everytime we would leave the room […]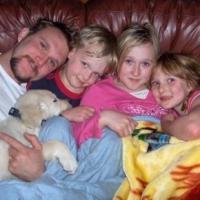 Hi Eddie! Just wanted to let you know that this little puppers is everything we wanted! She is so affectionate and loving! We have raised alot of great puppies, but this one has something special about her, sincerely. She has a special spring in her step and knows very well how to wrap us around her little paw. Thanks for all of your help and patience! Let her breeder know we are in love! And do let us know when […]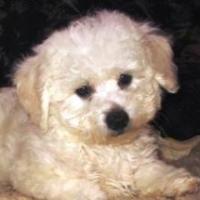 Eddie, I love the puppy.. It arrived right on time in Memphis, Tomi came out of his cage and we have been friends since. We drove back to Springfield and got home around Midnight. Tomi slept in my bedroom and never made a sound all night. He is just beautiful, I am very proud of him. He goes to the vet this morning for his vet check. I am certain that he is ok. He appears to be very healthy, […]
Well Eddie. It finally has happened. Dauntee came out of his shell 110% today. He showed like a dream . We took junior male puppy and went on to recieve reserve winners male. I spoke with the judge after and he said the only reason he never gave me the winners was because of the staining. , He said he has a beautiful face and head. As well a marvelous top line. That dog went into the ring like he […]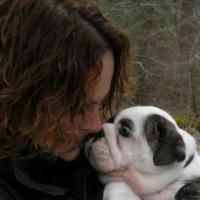 Hello Eddie, Greetings from America. What a lucky English Bulldog puppy I am. Jeanie and David just love me and treat me like Royalty. I have a "Big" exercise pen in the kitchen with comfy bed and soft quilt on the floor to romp on, eating very well as the food is very delicious. Warm soaked Eukanuba puppy kibble and Grammy's Pot Pie soft food and plenty of clean fresh water to drink. I have a stuffed toy sheep to […]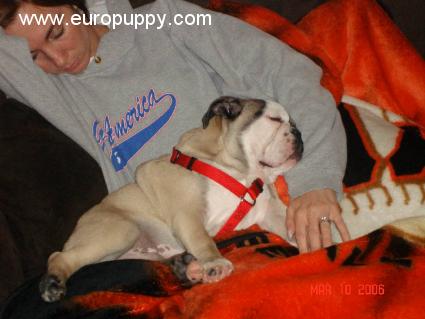 Sandor, Well we picked up our puppy yesterday, and we were so happy! He was morethen expected. Pictures do not due him justice. We took our whole familywith us to the airport, and the excitement was unbelieveable. He was alittle scared when we first got to see him, (what do you expect after a longflight across the country) but it only took a few minutes for him to getadjusted to the family. With the help of my Brother -In-Law (who […]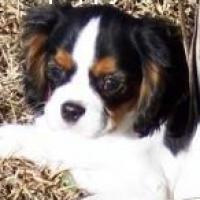 Dear Sandor, I wanted to let you know how pleased I am with the 2 Tri Cavalier King Charles Spaniels I purchased from you. Not only are they absolutely gorgeous but they have the best personalities. Their champion pedigrees are remarkable and I consider myself very lucky to have gotten them. Thank you for your helpfullness and kindness but most of all thanks for being so patient answering my many questions. Becky from North Carolina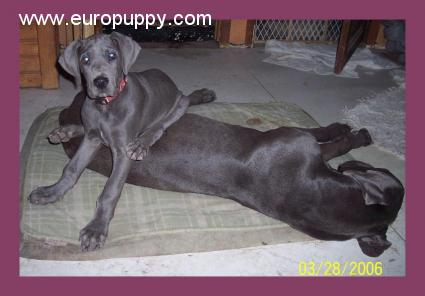 Hi Sandor, As you can see Darla loves pictures. She is doing very well. Darla bosses all the big guys around especially when it comes to food. They all back off and wait for her to eat a little bit out of each bowl and once she picks one, then the others start to eat. She is just to funny. Thank you again for another wonderful baby. I will keep you posted on her progress. Talk to you soon. Barb […]
Adopt from Euro Puppy to have your very own dream puppy
that will complete your life!