Euro Puppys Referenzen
We have more fantastic, and fun reviews on our Facebook Page and the Euro Puppy Club on Facebook. Have a look now at our most recent photos, videos and stories sent to us by Euro Puppy dog owners; loving life with their Euro puppy.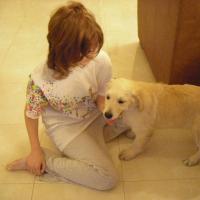 Hi there Eddie! We took the puppy, now called Rosie as she's so pretty, to the vet this morning (Saturday) – she was given one final vaccination and declared fit and healthy :) She is so adorable, and we're thoroughly enjoying her company. Our other dog is a little jealous, but she's a lovely temperament, so it's just a matter of time. The cat disappeared for several hours, but it knows where it's a good deal, so she'll get used […]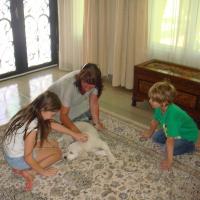 Hi Eddie, Montanna (now called Bonnie). We are from Scotland and scottish for beautiful is the word "bonnie") is here and we are absolutely DELIGHTED!!!!!!!!!!!!!!!!!!!!!!!!!!!!!!!!!!! She is incredibly beautiful and has settled in perfectly. Our daughter's (Samantha) face when she saw her on Friday, was one of my favorite moments ever. Samantha actually cried with happiness – she has never done that before and laughing "this is the best day of my life". Samantha has just played and played and […]
Hey eddy, Look at him now. Became more active and had minced beef twice and licked his bowl. He liked beef more than chicken. Now cheawing bone. He is very playfull. Now slowly mixing with us & i belive he will be normal soon. Went to docs and has declare him fit but will recover from stress & drepression than he will be fine. At times his mind is still in Hungry with his fellow mates. All over the Romeo […]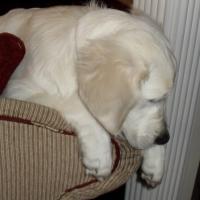 Hi Eddie, E.t.Harvey – Harvey now,ha grown quite big now.He arrived at the airport safely. We were very happy to receive him. Right now…… he is doing just fine. He is a very active dog. He plays,runs and jumps around the house and he looks really cute. He is like an entertainment channel to us & he keeps making us laugh. He is the perfect dog for us. The whole family loves this dog and takes good care of him. […]
Hi Steve, Attached is the first picture of Ginger , Doha- vet took care of everything and delivered him home at 3 am ! He is such an adorable puppy and is adapting super quickly to everything around him We can't be happier to have him ! I will be sending you more updated pictures if you want … Thanks for everything and everyone in Europuppy Cheers from Doha
Adaptieren Sie von Euro Puppy, um Sie Ihren Traumwelpen zu haben,
damit Ihr Leben zu ergänzen!