Euro Puppys Referenzen
We have more fantastic, and fun reviews on our Facebook Page and the Euro Puppy Club on Facebook. Have a look now at our most recent photos, videos and stories sent to us by Euro Puppy dog owners; loving life with their Euro puppy.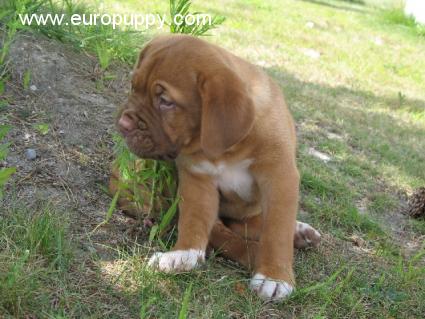 Dear Euro Puppy Team, I would like to let you know how much of a pleasure it was to work with all of you at Euro Puppy Inc. Your quick responses to my questions and professionalism was a key part to making my decision on the beautiful Dogue de Bordeaux you delivered. She is absolutely gorgeous and is very polite. The delivery of the pup was a very important one because now she is a member of our family and […]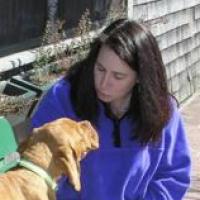 Hello Mario, Sorry it has taken so long to get you some photos, but here he is, all happy in his new home. Sampson is loving life and grow so fast. Please add these to your collection and web site if you wish….What a great pup and a great experience….Thanks again for everything you did for us… Michelle and Bobby Malavase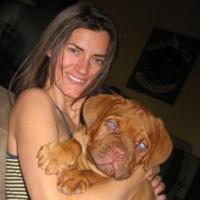 Hello Mario! He arrived just fine and we are crazy about him. Went to the Vet on Sat and he is very healthy. He has a very playful, clownish personality and is very trainable. He is already pretty much house broken. We are over the moon about him. Thank you for everything, Mario. Jennifer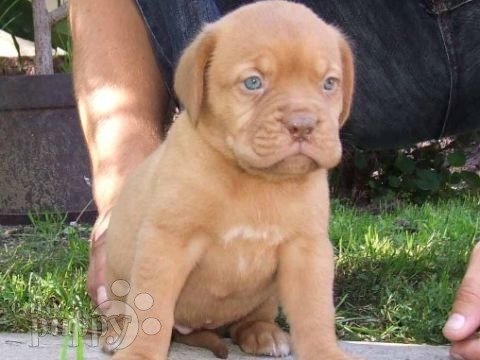 Hello Eddie, Wanted to let you know her Health Exam went well. She is just fine.Please thank the breeder again for taking such great care of her. Daniel,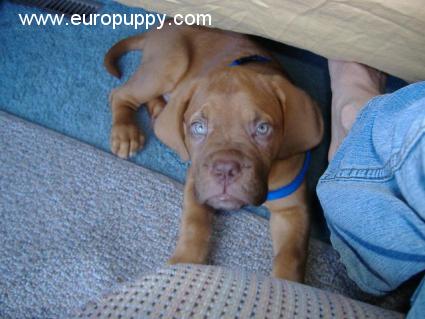 Hello Mario, I wanted to let you know how pleased me and my wife are with our new DDB Chaos. It took me a long time and a lot of research before we decided to buy our dog from Euro puppy. Im a firm believer in you get what you pay for and we definetly got our money's worth with this dog. he is a little tank and is already growling at strangers. We will defintely recommed you to anyone […]
Hi Mario, sorry it's taken so long to get pics to you. I know you wanted them earlier. Thor (Nissan) is 4 months old now and just a love. The Bordeaux is set to be fully recognized by the AKC this summer! We have a contact that is interested in seeing Thor and possibly showing him (keep your fingers crossed). Either way, he is a great dog and we can't wait to see how he develops as an adult. These […]
Mario, My husband and I were overjoyed when we picked up fiona! we were wonderfuly surprised to find out that she is more beautiful in person. her personality is perfect. she is confident, playful,intelligent, and she is already barking when some one comes to the door. she has the desire to protect us in only a week. we can not say how happy we are!!! we were also surprised at how smooth the delivery process was. we expected it to […]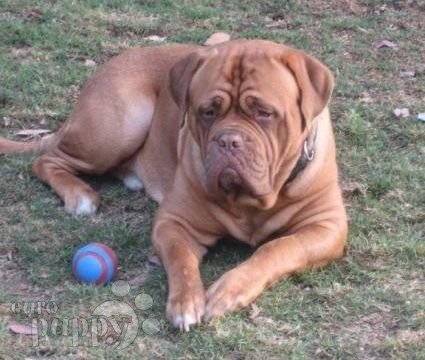 Mario, Just wanted to touch base since we bought our female. She loves her new home in Ventura CALIF. We named her Ginger. Dexter (our male) was very excited to have a play mate and they still to this day sleep together and play around the yard. They each have their own bed but she likes to crowd his like she is still small. This past week she had a growth spurt and looks more mature. She spent her first […]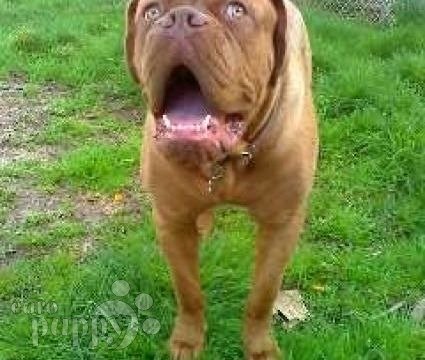 Hi my name is Rafael and I purchased a French mastiff from Europuppy.com at first I was a little skepticalabout buying a puppy I had never seen in person before and none the less I had to send Euro Puppy all the funds upfront before shipping the pup everyone who spoke to said to me don't do it you don't know who your dealing with but I went along anyway and took the chance but you know what it was […]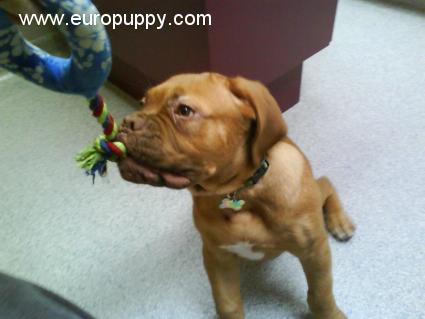 Thank you for all of your help answering my questions before "Flash's" arrival, now "Dagwood".He is amazing!I will be faxing his vet records to the number on the 1 year guarantee tonight.Dagwood just went to the vet today and has a clean bill of health.The vet was very impressed and said he is a beautiful dog!Thank you again for all of your help.I have attached a picture of "Dagwood" in the arms of his loving new Mom! :)Tami Hello Mario,I […]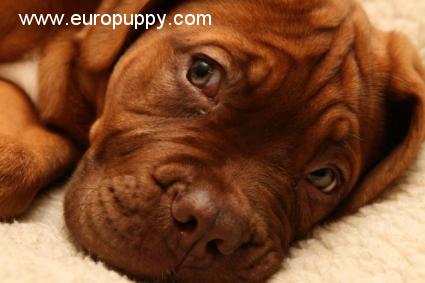 Hi Eddie, Ryan already left you a message to let you know that "Ardenne" made it safe and sound to Florida. We have decided to rename her "LOLA". I also emailed you the first 12hrs of pictures documenting the start of her new life with us! Hope you enjoy! She was understandably skittish when we first picked her up but she is slowly getting accustomed to her new home. Her personality is starting to come out already and we are […]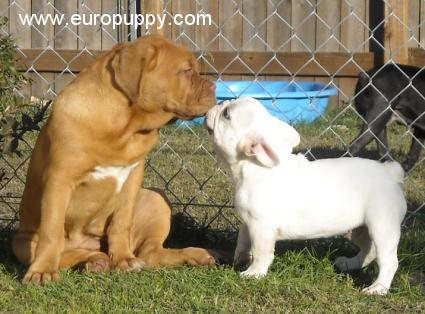 HEY MARIO.. WE PURCHASED WINSTON A FRENCH BULLDOG AND ARIA. A FRENCH MASTIFF.THESE ARE BEAUTIFUL DOGS WITH WHOM WE LOVE DEARLY…THANKS FOR THE QUALITY WE RECEIVED IN THESE PUPPIES AND THE COMMUNICATION AS WELL..YOU TRULY STAND BEHIND YOUR PUPS…THANKS AGAIN CHEYENNE LENNOX
Adaptieren Sie von Euro Puppy, um Sie Ihren Traumwelpen zu haben,
damit Ihr Leben zu ergänzen!