Euro Puppys Referenzen
We have more fantastic, and fun reviews on our Facebook Page and the Euro Puppy Club on Facebook. Have a look now at our most recent photos, videos and stories sent to us by Euro Puppy dog owners; loving life with their Euro puppy.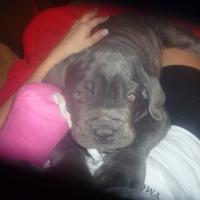 We just wanted to say Thank you we love Rambo!!! We sent you a picture of him. The Schroeder Family, Clearwater, Florida FL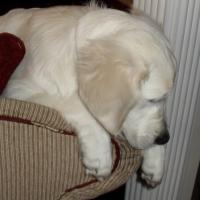 Hi Eddie, E.t.Harvey – Harvey now,ha grown quite big now.He arrived at the airport safely. We were very happy to receive him. Right now…… he is doing just fine. He is a very active dog. He plays,runs and jumps around the house and he looks really cute. He is like an entertainment channel to us & he keeps making us laugh. He is the perfect dog for us. The whole family loves this dog and takes good care of him. […]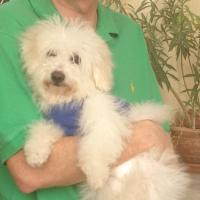 Hi Eddie Here are a few snaps of Max (aka Midget). After a long trip from Hungary Max arrived in good shape in Abu Dhabi and immediately settled into our family and home as if he had been here for years ! He is a quiet,gentle puppy with a great personality and makes us smile with the way he has made himself at home. A big thanks and credit to Max's breeders and you guys at Europuppy for Max. Best […]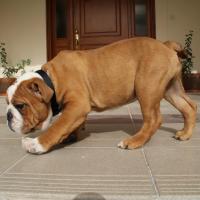 hi eddie its saturday morning we have renamed roller vinnie suits his temperment so much better he seems to have settled in realy well eating drinking and playing great we have a vets appointment tomorrow (sunday) so will inform you of the visit once again thank you so much for all your help over the last few weeks and the safe delivery of vinnie to our home regards lorna farmer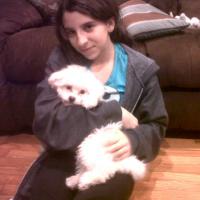 Hello Eddie, This is another picture of Stella with her new best friend…my daughter! They are inseparable together! Beatrice, New Jersey NJ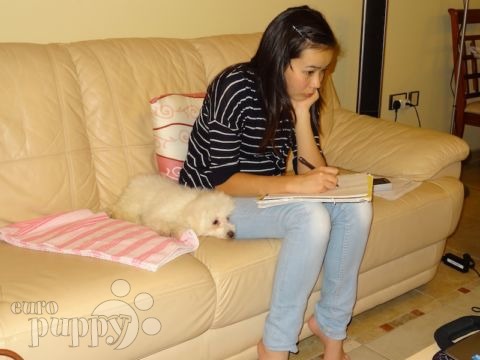 Hi Eddie, Piccolo arrived at our house at 3:30am this morning. He is well and pleasantly friendly and playful. He seemed nervous on arrival, but soon got used to his new environment. Our dog, 3-year-old Bolognese, seems a bit nervous and jealous about having Piccolo in the house, but we are working hard on them becoming good friends. I gave Piccolo a warm bath and a little trimming of hair around his eyes and bottom. He was whining a little […]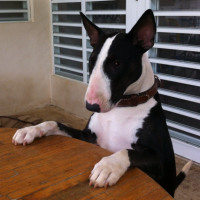 Thought you would like the photo, this Reina which means queen in Spanish she is simply beautiful and very affectionate !!!!!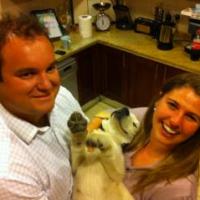 Dear Eddie, I thought I would send you a photo of Clover (now named Oscar) settling into his new home in Dubai. Best regards, Kristen Kristen Angus Associate Abu Dhabi, UAE Eddie Just to let you know Kristen has been to the vet with Clover this morning (now called Oscar by the way!). The vet has given him a clean bill of health and said that he is in very good condition. He has eaten well both when we got […]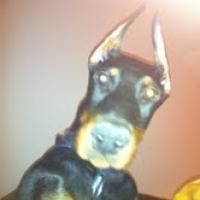 Hi Eddie, How are you? Just to let you know Apollo has settled in great with us. He is so clever and is so much fun. He has grown into his paws now so he doesnt look so goofy! lol He keeps me very busy but I can not imagine life without him now!! Thank you for helping bring him into our lives! I attached some photos for you. Zoe, Riyadh, Saudi Arabia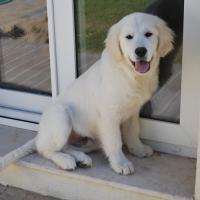 Hi Eddie, Just a quick note to thank you for the puppy – King Arthur – Milo now; Arrived safely to Dubai and doing fine; All what you promised was done and all details mentioned in advance were happening without any confusion which made the process very easy and smooth. I had a beautiful puppy and it is growing steadily – the whole family is involved in taking care of Milo; I will recommend Euro puppy for all friends and […]
Adaptieren Sie von Euro Puppy, um Sie Ihren Traumwelpen zu haben,
damit Ihr Leben zu ergänzen!