Euro Puppys Referenzen
We have more fantastic, and fun reviews on our Facebook Page and the Euro Puppy Club on Facebook. Have a look now at our most recent photos, videos and stories sent to us by Euro Puppy dog owners; loving life with their Euro puppy.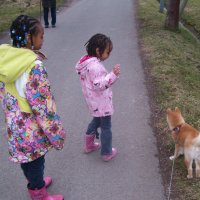 Hi Sandor, Happy Anniversary! My experience with Euro Puppy has been exceptional. I was somewhat nervous doing something as significant as buying a puppy online, but I had absolutely no issues to mention. Shiba (his breed and his name) is beautiful…a head turner and gets attention anywhere we go with hime. He has been a wonderful addition to our family and I would look to post my comments online to your site for everyone to see. You guys should be […]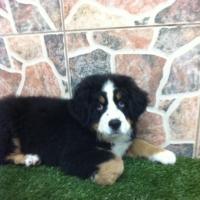 Check this pup out. Doubled his weight to twenty pounds in nineteen days! Housebroken since the third day, he iis magnificent. Thank you Euro Puppy :-)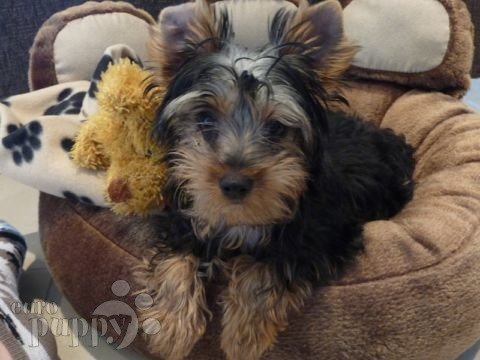 Hey Eddie, I couldnt get to the link to fill out the survey but here is a update: Hurley (formerly known as Frodo), is doing amazing! After we picked him up from the Airport he was so friendly and excited. He is so happy here in his new home and is already trained on his pee mat and is fetching a toy! He is very healthy and enjoys doing everything with us. He is growing fast and loves to play. […]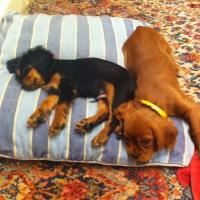 hello there eddie all is well here with maximus and apollo . they are very happy boys , maximus the blk and tan one is much slower with his potty training but im sure he will get it one day I've sent a pic for you. They are great dogs and i thank your for all your help happy new year daniel Hi there Eddie Just wanted to share a birthday pic of apollo and maximus on there 1st birthday […]
Hey Eddie, Sorry it has taken soo long for me to respond, I also tried to take the survey, but it is now closed. I wanted to let you know that we are very satisfied with our business with you and Suzy (we have renamed her "Scout") is doing very well. She finished up all her puppy shots and will be spayed next week. I'm going to attach some pictures for you to see how much she has grown. She […]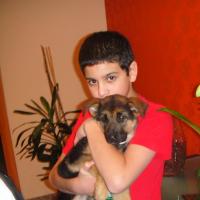 Hi Eddie, This has been such a great experience and i am so happy that i chose Euro Puppy to do buisness with because of their honesty and their loyalty to their custumers from the beginning to the end. I also appreciated them always keeping me updated about everthing it made me feel in control. I already recommended you to all my friends, and if i ever think about buying a new dog i know where to go. I hope […]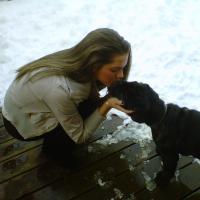 Hi Eddie, I just wanted to share an awesome picture of KONG and my daughter. He sure is the man of the house! I hope you like it. Sincerely, Tina Crowley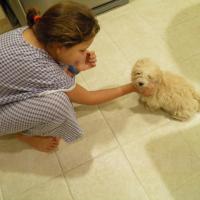 Good evening Eddie at last I have a minute to drop you a line regarding the arrival of Dixie. She arrived in great form despite the flight, which seems not have bothered her at all.She has settled really well in her new home and is a bundle of fun. We had our first visit to the vet and will send a copy of her certificate. We are very pleased with the service we received from Europuppy, but not as pleased […]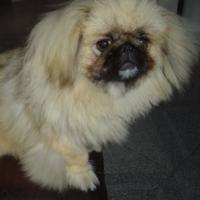 Dear Sandor It was good to hear from you and I shall be pleased to complete and return your survey. I will return it to you later today or tomorrow morning when I have a little more spare time-. As for my puppy Tamsin,she is all I could ever have hoped for. She is growing into a very beautiful little dog and has a wonderful temperament. She is much admired -especial by my vet and the nurses in the surgery […]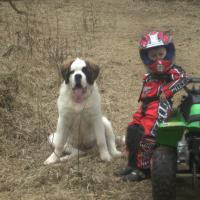 hello again we have had tammy the saint bernard from you now for abt 8 months and she is doing really well so we would like to extend our family and get her a friend i was wondering if you have a litter of saint bernards arrive and there is a male in the litter could you please email us to let us no. I have also enclosed a few pics of tammy so you can see how shes doing. […]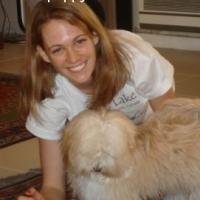 Dear Eddie, Attached are photos of Frodo and Sandy. They are beautiful, calm and well adjusted. Frodo has been the easiest dog I have ever house trained and I thought Sandy was easy. Please let the 2 Havanese breeders that produced our puppies know how impressed we are with them. And of course, a big thank you to you all at Europuppy for bringing us together and making the transition between countries so effortless. Dana Eddie, I have attached a […]
Adaptieren Sie von Euro Puppy, um Sie Ihren Traumwelpen zu haben,
damit Ihr Leben zu ergänzen!