Euro Puppys Referenzen
We have more fantastic, and fun reviews on our Facebook Page and the Euro Puppy Club on Facebook. Have a look now at our most recent photos, videos and stories sent to us by Euro Puppy dog owners; loving life with their Euro puppy.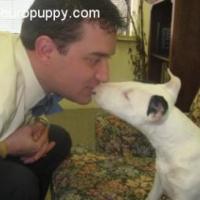 Eddie, We got the puppy, and she is just beautiful!!This is a pic of Brad and Zoe. Here are some more pics too of her in the office with staff. Thank you,Carie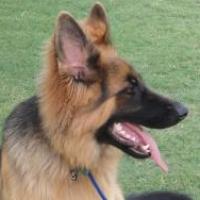 Hi Eddie, I have attached a couple of photos taken last month of Primus. He has been fantastic and can't believe how lucky we are. He has a great temperament. He is great with our kids who are only little (3.5yrs and 14mths). He is very protective of the kids but in a good way, I have seen him stopping my 14mth old from climbing down the stairs. He also socializes with other dogs brilliantly, not domineering or territorial. At […]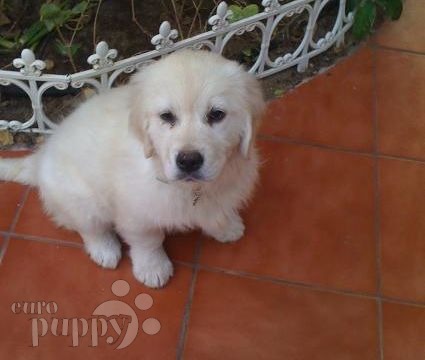 Hello Eddie, I would like to thank you for the lovely puppy (MAGIC-GOLDEN RETRIEVER) that has enlightened our home. My family loved her and the Vet. checked her and she was healthy. I really hope you continue doing your business as it is always great to find a reliable source for reputable puppies.I have attached 1 photo for the puppy in our yard. Hisham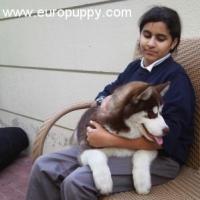 Hi Eddie, Sorry for the delay! Drake is doing fine and my daughter really adores him.He is still a little confused, but he is settling in. I have attached three pictures and will forward more when the chance arises. Best Regards,George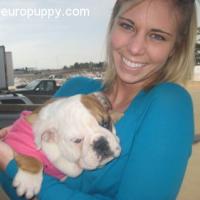 Hello Eddie, Chelsea arrived yesterday around 12 noon. We did not get home until around 4:45p.m. and all local vets close at 5:00p.m. So she will be going today around 1:00. She is doing great and is as sweet as could be!Here are a couple pictures from when she arrived! I will e-mail again as soon she leaves the vet and fax information to you! Jenna
Hello Eddie! Hope everything is great with you,My and my family are so happy with Leo (Jack), he is healthy, happy and amazing!This is a picture I would love to share in your gallery or anywhere you think will help and spread the love :) Thanks for the best dog ever! Fawaz and Family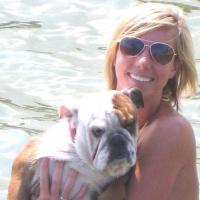 I just wanted give you guys at EuroPuppy a quick update on Chelsea. I purchased Chelsea, a miniature English Bulldog this past Feb. She weighs about 40lbs now and is strong, playful and healthy, I could not ask for a better dog! She has been the best puppy throughout this almost first year. She has never once cried or whined, has a head full of sense and was very easy to train. She is without a doubt the sweetest thing […]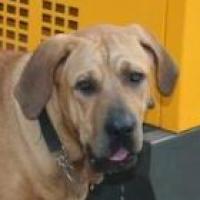 Hi Eddie, Sorry that it took me a bit time to give your more details about Rios arrival here in Ghana. As you promised Rio is a fantastic Fila Brasileiro Male. When we took him out from Accra Kotoka – Intentional Airport he was very fit , a bit reserved on his own (typical Fila behavior towards strangers ) but when he saw that we had some fresh water and some nice dog biscuits for him the seal was broken […]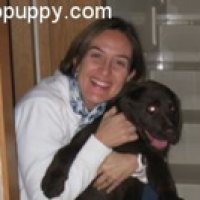 Dear Eddie and all the wonderful Euro Puppy Team: We are really thankful with you guys, as you can see in the pictures our CHOCO is now happy with our family and we are just in love with him. We are really sure we did the right choice getting the dog from you, he's healthy, smart,, gorgeous, just the perfect dog we were looking for. Many many thanks to all of you!!! Monica, Andreas, Matthias & Thomas Kroiss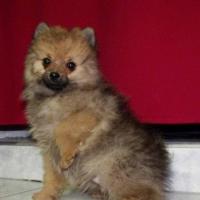 Hey buddy, its Terry and Smirna Devine from Bosnia. We just wanted to let you know that Frank,(Prince now), that we bought from you, is now a proud father of pups just as of 10 hours ago. Terry D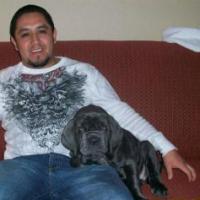 Mario, We would like to Thank Mario and Europuppy for all they have done to help us with the purchase of our first Neapolitan Mastiff. We were very skeptical about buying a puppy over the internet, but Mario was very patient and helpful. He answered all of my calls and emails in a timely manner, and was very helpful with all my questions. We spent a couple weeks researching Neos and Europuppy, and we are very pleased with our choice […]
Adaptieren Sie von Euro Puppy, um Sie Ihren Traumwelpen zu haben,
damit Ihr Leben zu ergänzen!