Referencias de Euro Puppy
We have more fantastic, and fun reviews on our Facebook Page and the Euro Puppy Club on Facebook. Have a look now at our most recent photos, videos and stories sent to us by Euro Puppy dog owners; loving life with their Euro puppy.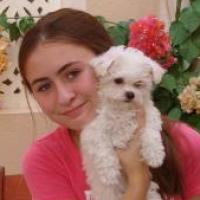 Hi Mario, Here is a picture of our beautiful Bolognese puppy "Daisy". She is an absolute joy and is so full of fun. She arrived at our home after a long flight to Qatar, and bounded out of her crate, tail wagging ready to play. She is so funny, she grabs her toys and runs like crazy around the room wanting someone to chase her.Even our cat allows her to sleep next to him, he can't quite figure out where […]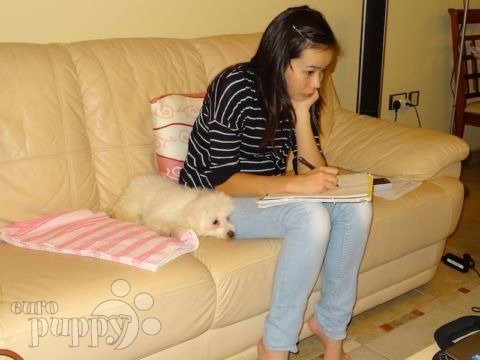 Hi Eddie, Piccolo arrived at our house at 3:30am this morning. He is well and pleasantly friendly and playful. He seemed nervous on arrival, but soon got used to his new environment. Our dog, 3-year-old Bolognese, seems a bit nervous and jealous about having Piccolo in the house, but we are working hard on them becoming good friends. I gave Piccolo a warm bath and a little trimming of hair around his eyes and bottom. He was whining a little […]
Compra con Euro Puppy para que tengas el cachorro de tu sueños
para completar tu vida!