Bull Terrier Descripción de la Raza
Expectativa de Vida
10-12 años
Grado de Aprendizaje
Alto
Tamaño de la Camada
4 to 8
Peso
Perros: 55-80 libras
Hembras: 45-65 libras
Altura
Perros: 20-24 pulgadas
Hembras: 20-24 pulgadas
País de Origen
Great Britain
Grupos
AKC Terriers
FCI Group III.: Terriers
TKC Terrier
Otros Nombres
English Bull Terrier, Standard Bull,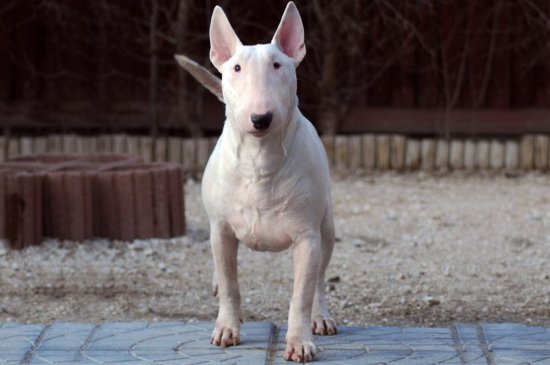 The Bull Terrier is a small muscular dog, especially around the shoulders the Bull Terrier is distinguished by its muzzle. Its most distinctive feature is its head, which is almost flat at the top, sloping evenly down to the end of the nose with no stop. The eyes are small, dark, almond-shaped and closely set. The body is full and round, while the shoulders are robust and muscular and the tail is carried horizontally.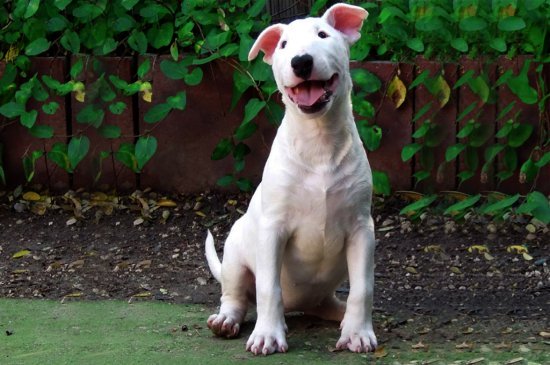 When properly trained the English Bull Terrier tends to be friendly and have a good temperament. Known for his sense of humor he is an outgoing dog with a dominant nature who needs firm handling by his owner. A tenacious fighter, he is most often dog-aggressive and has a high prey drive towards small animals such as cats.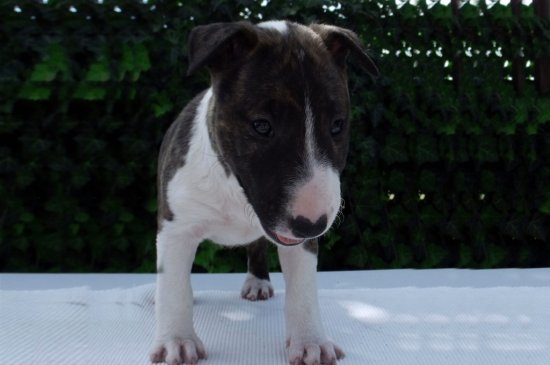 Bull Terriers are playful, clownish obedient but also sometimes rough. They need firm training and are not recommended in a house with other pets.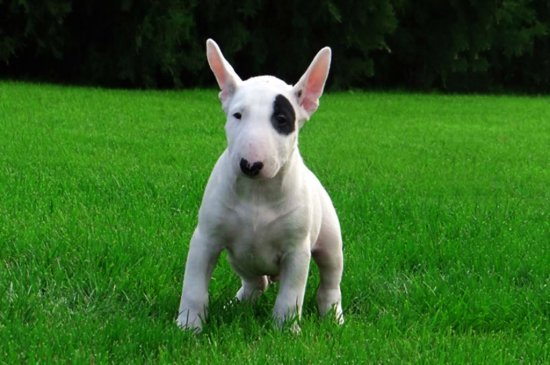 Bull Terriers are energetic and fearless and will become attached and protective of their owners. Not recommended around small children as they will not tolerate teasing.
Colores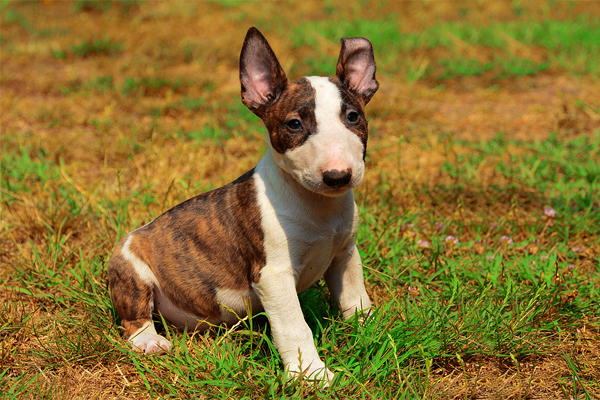 Pure white, brindle, black, red, fawn and tri-colored.
Abrigo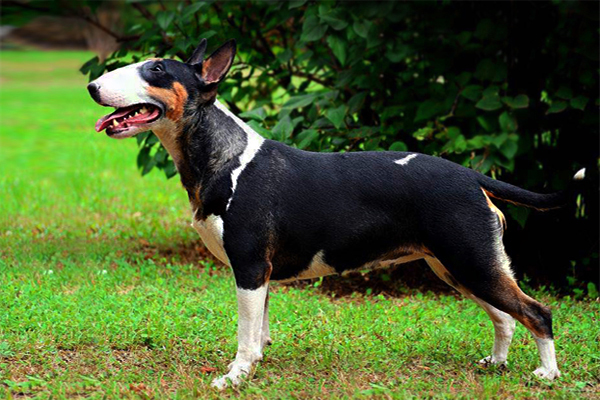 The Bull Terrier has a short thick coat and is an average shedder.
Problemas de Salud
Due to their short, white coat, skin problems and allergies can occur occasionally. Deafness is also a moderate issues, in one or both ears, and they should be checked for this at a very young age. An unusual issue called 'spinning' has been known to exist with Bull Terrier's, starting at around 6 months of age, whereby they will chase their tail for hours at a time. This is believed to be a form of seizure, and if noticed, treatment from your vet is required. To minimize the risk of your Bull Terrier developing any hereditary health issues, you should buy a puppy from a reputable Bull Terrier breeder.
Condiciones de Vida
Bullterriers will do okay in an apartment if they are sufficiently exercised, and ideally they should not be left on their own all dog, as they often suffer from separation anxiety. Due to their short coat they prefer warm climates, but can adapt to warmer climes.
Alerta de perros nuevos
Alerta de perros nuevos por raza