Referencias de Euro Puppy
Tenemos más opiniones fantásticas y divertidas en nuestra Página de Facebook y el Club de Euro Puppy en Facebook. Echa un vistazo ahora a nuestras fotos, videos y historias más recientes enviadas por los dueños de perros de Euro Puppy que aman la vida con su cachorro Euro.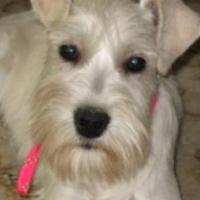 My husband and I are on assignment in Doha,Qatar. Finding a pure bred dog in the Middle East is very difficult. We wanted a specific breed and color which we could not find here. After talking to breeders in the US and searching on-line for over a month, we decided to select our puppy through EuroPuppy. We are so pleased with our choice. The most important thing to us was temperament and we explained that to Eddie. The pup he […]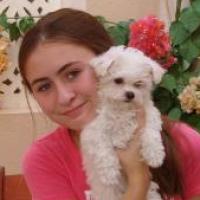 Hi Mario, Here is a picture of our beautiful Bolognese puppy "Daisy". She is an absolute joy and is so full of fun. She arrived at our home after a long flight to Qatar, and bounded out of her crate, tail wagging ready to play. She is so funny, she grabs her toys and runs like crazy around the room wanting someone to chase her.Even our cat allows her to sleep next to him, he can't quite figure out where […]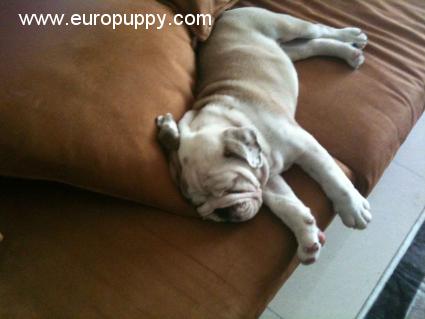 Eddie, The pup has arrived in good spirits this morning after his long trip. As soon as we got him home he was bouncing around as if he didn't have a care in the world and hasn't stopped since!! He's a lovely pup and I'd like to thank you and your staff for making the process so easy…and would recommend you to anyone I meet. Thanks, Joe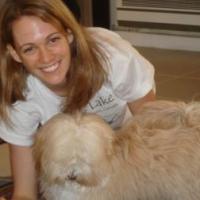 Eddie, Keriana (we called her Sandy) continues to be the world's best puppy.She is exploring her world with enthusiasm.She wasn't thrilledabout the leash the first time we took her out, but now she gets excitedwhen she sees her leash, because she loves to get out and sniffaround……but not as excited as she gets when the dog treat dooropens! She must have been paper trained in Hungry as she prefers thepaper to outside, she even peed on my daughter's math homework […]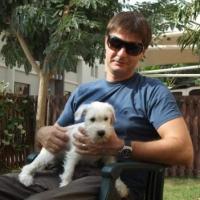 Hi Eddie, We just wanted to write and say thanks for sorting everything out with Coco and we are really impressed on how easy the process was from picking Coco to receiving her. Everything worked perfect with the help of Doha Vets who delivered her to our door.We really enjoy having her around. She is a lovely puppy and we are sure she will grow up to be a great dog. Here is a video of her too:http://www.youtube.com/watch?v=1k8bu9MbGX0 Kind Regards […]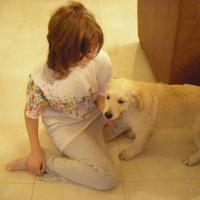 Hi there Eddie! We took the puppy, now called Rosie as she's so pretty, to the vet this morning (Saturday) – she was given one final vaccination and declared fit and healthy :) She is so adorable, and we're thoroughly enjoying her company. Our other dog is a little jealous, but she's a lovely temperament, so it's just a matter of time. The cat disappeared for several hours, but it knows where it's a good deal, so she'll get used […]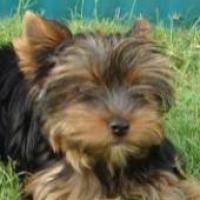 Eddie, I never thought that I could get something so perfect online. Euro puppy have proven me wrong. Not only did you send me the perfect pure breed Yorkie but you and your team managed to build a close trustful relation with their clients, through their advice on what's right and what should be done. I live in Doha Qatar and did not believe that I could have my puppy shipped to me all the way here safely and healthy. […]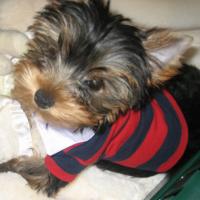 Hello Eddie, I hope all is well with you and once again thank you very much. He is very happy and healthy although his bravery nearly resulted in a broken leg yesterday so we are watching him very carefully. He thinks he can fly! We have attached some pictures of him and I will send you a reference to use for your website. His pad training is comming along superbly and after a couple of mistakes hes doing very well. […]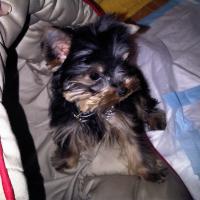 Hi Eddie, I just wanted to let you know that Mini has finally arrived to Doha Qatarand he is doing great! Tomorrow he has an appointment at the vet,we couldn'ttake him today because its weekend here so vet is not opened today. I will send you updated pics for you guys and the breeder plus a vet updatetomorrow. I also want to send a full detailed email as a reference. You havebeen absolutely wonderful and have sent me the most […]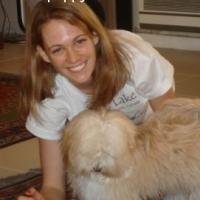 Dear Eddie, Attached are photos of Frodo and Sandy. They are beautiful, calm and well adjusted. Frodo has been the easiest dog I have ever house trained and I thought Sandy was easy. Please let the 2 Havanese breeders that produced our puppies know how impressed we are with them. And of course, a big thank you to you all at Europuppy for bringing us together and making the transition between countries so effortless. Dana Eddie, I have attached a […]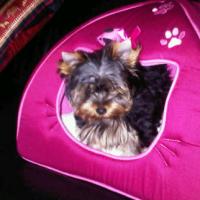 Dear Eddie, We have finaly receieved Vibe, now called Minnie! Where to start, first of all me and my wife thank you for your profesionlisim! We are so happy with Minnie, amazing puppy! The minute we saw her she was so playful, we couldnt have wanted a more perfect dog! Thank you so much again! Best regards, Issam & Marlene Soufan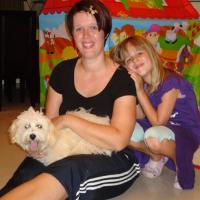 Hi Eddie Sorry for keeping you waiting. I added some pix and hope you like them. Buster is doing so well. His skin condition is under control again. We give him a bath once or twice a week with a special skin shampoo, and that really helped a lot. Maybe it was just a reaction to his new home country. It is a lot hotter and dustier here. So we cross our fingers that it will not come back. Buster […]
Compra con Euro Puppy para que tengas el cachorro de tu sueños
para completar tu vida!