Referencias de Euro Puppy
We have more fantastic, and fun reviews on our Facebook Page and the Euro Puppy Club on Facebook. Have a look now at our most recent photos, videos and stories sent to us by Euro Puppy dog owners; loving life with their Euro puppy.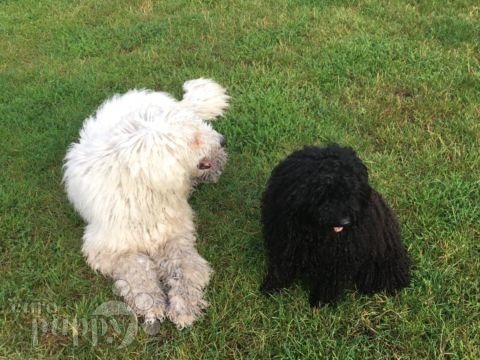 Hi La Sheika, Bia is a wonderful companion. We could not be happier with her. Thanks for all the efforts from you and the team, we really appreciate the quality of your work. Bia is still growing, her hair is showing more defined dreads, that look just super cute. Here are more pics from recent times, all we do is take pictures of her hehehe. She now has a friend who is a Puli named Okos, they are so cute […]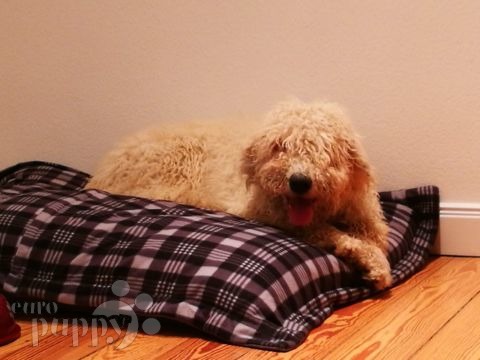 Bia is doing great! We are completely in love with this gentle, well behaved girl :) The first two days Bia arrived she was a bit scared and not used to the new environment she has just arrived to. During our road trip to Madrid, she started getting used to us and now she is completely adjusted to her new family. Bia is a great member of our family Lasheika, and we are so happy she is in our life. […]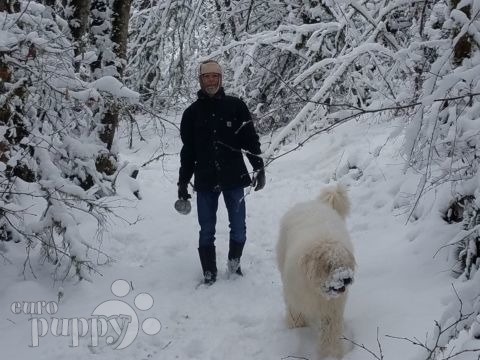 Lasheika, Blue is doing amazing. On his first birthday, he weighs in at 125 pounds. We had some amazing winter snow this month here in Oregon. Blue and his best dog friend Duna had so much fun playing. He always seems to be smiling.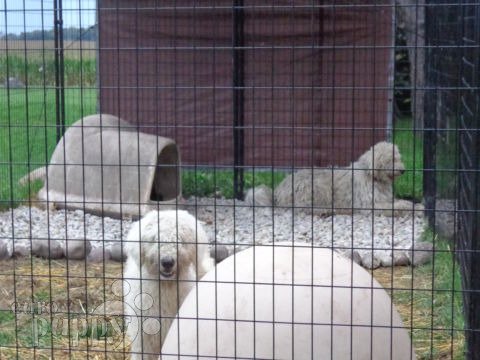 Hi Eddie, Arent they beautiful?!:) We just love them and they love each other. They're doing amazing. You'll also be glad to know we gave birth to our 3rd baby boy June 21st. He was 8lbs 6oz…and just wonderful. His name is Nolen Blake Williams. We are now settled into a nice routine with our boys, Komondorok, and everything else! Here is a great photo of them. Thanks as always,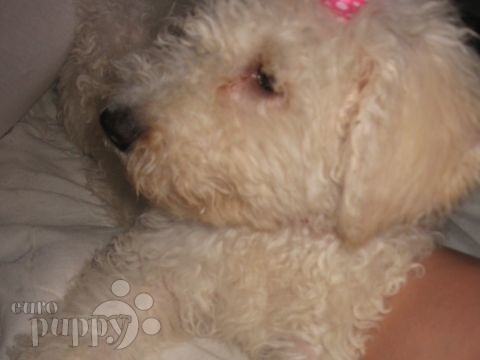 Hi Eddie, Aleta is Home! Things went really quickly at the airport, and that was a relief. She is absolutely beautiful! She has a sweet personality, and is really curious about the tv!:) Kaleb was really surprised to see her, and he has seen many, many other dogs and he acted much more excited about her. He tried to play with her immediately and acted like he was a young puppy again. I know he is going to be so […]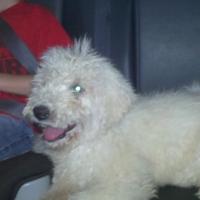 Hello Eddie and Tibor, We are on our way home from Washington DC with a beautiful white fluffball snuggling in the back seat. She had some play time outside after the long flight and seemed healthy and sweet. We will take her to the vet tomorrow and let you know what they say, but so far, so good! Thank you for finding her for us. Teri and Jay Thomas, Apex, North Carolina NC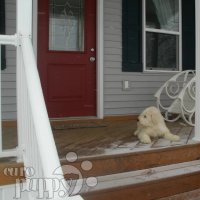 Hi Eddie, As you know, my husband and I have wanted a Komondor for years. We had looked and looked, and they were not easy to find. I finally learned about Europuppy. It was at first scary to think about getting a dog from another country, but I quickly learned that I could trust your company from your prompt service. Every question that I had, you responded to right away. You made the whole process so easy so I could […]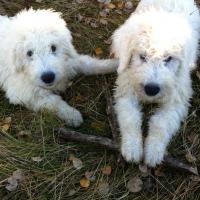 Hi Eddie, Here are some pic's of Jackson & Benson. They are so happy here, I will send you more as they grow. Respectfully, Sammie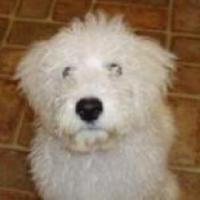 Dear Eddie & Mario: We love our puppy…he is perfect…I am still stunned that he got off the airplane, out of his crate, wagging his tail the whole time…when we got him back to the farm it was like okay I'm home now let's play…he is already going in and out his kennel door…we have 3 small indoor/outdoor kennels in my laundry room that allows the dogs to each have there own indoor/outdoor run during the time we are seeing […]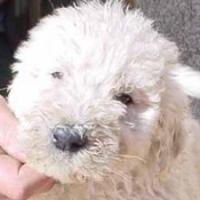 Hi Monika! About a 15.30 we got the puppy in the airport. Everything is ok, all the airport workers were there and watched the puppy. At first the puppy was little bit shy and scared but after that when Siirika tooked him into his lap after that he was little bit braver. Then we visited our veterinarian and we looked over our puppy and he said that he is absolutely fine. And just in case he cheked the microchip number […]
Compra con Euro Puppy para que tengas el cachorro de tu sueños
para completar tu vida!