Euro Puppy Reviews
We have more fantastic, and fun reviews on our Facebook Page and the Euro Puppy Club on Facebook. Have a look now at our most recent photos, videos and stories sent to us by Euro Puppy dog owners; loving life with their Euro puppy.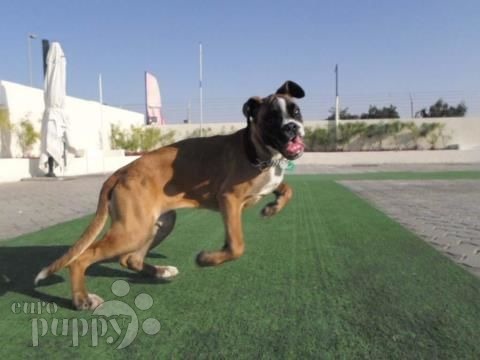 Hi Steve & Eddie. Mercy is a lovely girl and I'm just delighted to be a dog owner again – think she'll be getting house clean in coming week. She's becoming attached – follows me to bathroom and kitchen – even if just 2 minutes, she prefers to be very close. She also loves snuggling up in her sleep if I'm reading w her little head next to mine and paws on my chest (I love the feeling of her […]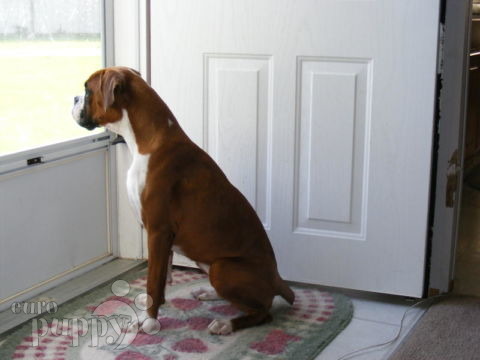 Hi Eddie, Sorry it took so long, but as promised, here are some pictures of Bella at 7 months old. She is beautiful and has been a very fun addition to our household. Stacie & BrianCrosby, TX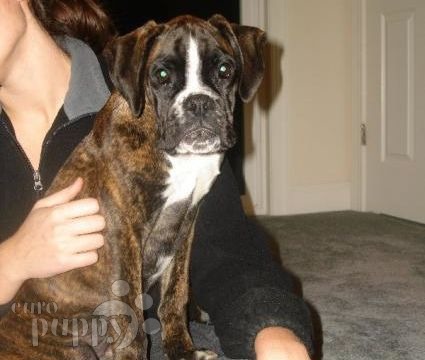 Hi Mario, We wanted to touch base with you again and let you know how wonderful Aida is doing. She is picking up wonderfully on house training and learning basic commands (in English). Attached is two pictures so you can see how well she's doing at home with us. Thank you for everything – we couldn't have asked for a better built, more well rounded boxer. When she came off of the plane from over seas, we expected her to […]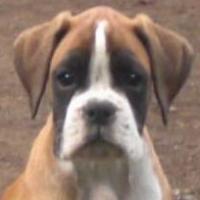 Hi Eddie, I just wanted to send an update on Angie. Angie has been a true blessing to our family and is a beautiful representation of what this breed was meant to be. I have been involved with American Boxers for almost 20 years and have never seen a dog with the working temperament and drive that Angie possesses. Europuppy made it possible for me to import Angie without any of the hassle of language barriers or potential scams. I […]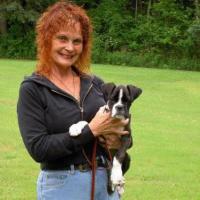 Eddie, Here are some new photos of Lauren – Boxer puppy. As you can see, I'm thrilled with her. She is confident, very loving, quick and willing to learn. Has totally made herself at home here in beautiful Marion. "Lauren of the Faerie's Realm" got to socialize with some people spectators Sunday at the AKC Trial for Canine Good Citizens Titles here at the Education Center. She is outgoing to people and friendly – but she is very loyal to […]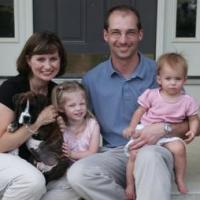 Sandor, Attached is a picture of Zeuss (aka Berri) with his new family. Please pass along to the owner(s) and let them know he will have a wonderful, loving home. He is doing really well & we think it is a great match. Everyone is thrilled, and we think he is too. Thanks for getting him here & your customer service. We enjoyed working with you. All the best! The Alessandro'sMiddletown, Ohio06/29/2005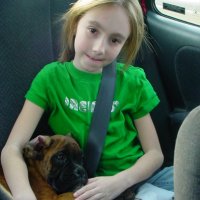 Sandor, We picked Martin up at the airport today. He is AWESOME! It didn't take long for him to settle in to our home/family, and he appears to be in good health and good spirits (although a bit on the skinny side). I'll be taking him to the vet for a check-up on Saturday and I'll let you know how that goes. If you need me to do anything else about the wire transfer, just let me know. I took […]
Adopt from Euro Puppy to have your very own dream puppy
that will complete your life!