Descripción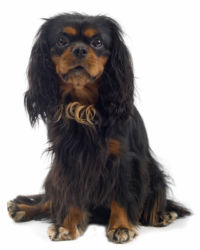 Expectativa de Vida
10-12 años
Grado de Aprendizaje
Very high
Tamaño de la Camada
2 to 4
Peso
Perros: 10-14 libras
Hembras: 8-12 libras
Altura
Perros: 10-11 pulgadas
Hembras: 8-9 pulgadas
País de Origen
Great Britain
Grupos
AKC Toy Dogs
FCI Group III.: Terriers
Otros Nombres
King Charles Spaniel
English Toy Spaniels are the ultimate lap dogs, as they love to sit by their owners' side. They are sweet, shy, easygoing and affectionate to their owners and those they are familiar with. They make a wonderful companion for the elderly.
This breed is a small, sturdy, square breed with a deep, pug nose that is black with very well open nostrils, a well-defined stop, and dome-shaped skull. The teeth should be slightly undershot. The have large, dark round eyes with a sweet expression.
Their soft, silky coat is well feathered and comes in four colors varieties: King Charles (black & tan), Ruby (solid red, sometimes with a few white hairs or small white patch on the chest), Blenheim (white with red markings, often with a red "thumb print" centered on the top of the head), and Prince Charles (tri-color: white with black & tan markings). The tail is customarily docked.
The English Toy Spaniel is playful, sweet, gentle, happy and loving, but it is sometimes timid. He/she will be sociable with those who approach it affectionately. They are friendly with other dogs. This breed is naturally well-behaved and intelligent, but is a bit willful. It's quiet, non-demanding, and needs to be treated gently.
This little dog needs to be with a lot of people to be happy. They are usually good with all children, but will do best with an older child. They are, however, considered exclusively a companion dog. Some are known to be picky eaters.
Problemas de Salud
Some bloodlines are prone to respiratory ailments, heart disease (MVD), slipped stifle, patella luxation, cataracts, inguinal hernias, eye problems and ear infections, all of which can be monitored by frequent vet visits. The eyes and ears should be cleaned to avoid some of these problems. Like many other short-faced breeds, the English Toy Spaniel may wheeze and snore. He/she may have trouble breathing in hot weather or with over-exertion, because of its short muzzle. To minimize the risk of your English Toy Spaniel developing any hereditary health issues, you should buy a spaniel puppy from a reputable breeder.
Condiciones de Vida
An apartment is adequate if some form of exercise is provided. Owners should be patient, calm leaders who want to enjoy a lap dog. They should be protected from extreme temperatures. This breed is relatively inactive indoors, and will do okay without a yard.
Alerta de perros nuevos
Alerta de perros nuevos por raza