Gran Danés Descripción de la Raza
Expectativa de Vida
7-8 años
Grado de Aprendizaje
Alto
Tamaño de la Camada
5 to 12
Peso
Perros: 120-200 libras
Hembras: 100-130 libras
Altura
Perros: 30-34 pulgadas
Hembras: 28-32 pulgadas
Grupos
AKC Working Dogs
FCI Group II.: Pinscher and Schnauzer- Molossoid Breeds - Swiss Mountain and Cattle Dogs
TKC Working
Otros Nombres
Deutsche Dogge, German Mastiff, Grand Danois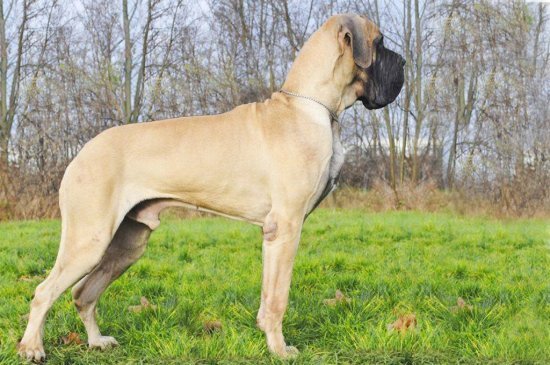 The Great Dane is a giant dog that combines nobility with robustness and power with elegance. It is regal in appearance, having dignity, strength and elegance. This breed is the tallest of dog breeds with its great size and well-formed muscled body. The Great Dane is known as the friendly giant, it should show no unprovoked aggression.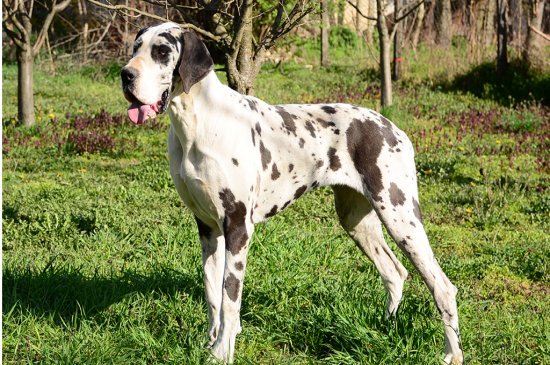 This breed is gentle, loyal, affectionate, and patient; it makes a great family dog. It makes a perfect companion to children. Adapts well to city life if given plenty of space and exercise. Despite its large size it should not be kenneled but kept indoors as a member of the family.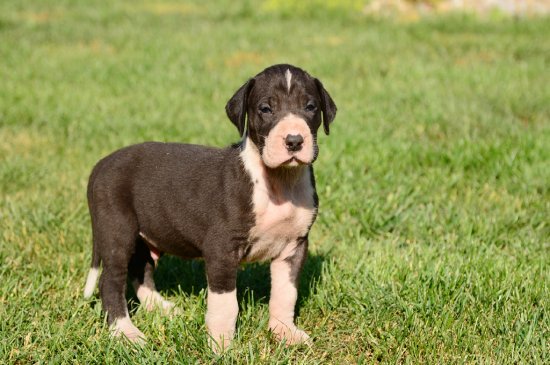 The Great Dane loves everyone and needs to be around people. It is brave, loyal, responsible and dependable. The Great Dane does not bark much and only becomes aggressive when the circumstances require.
It makes a good watchdog. Because of its giant size, the Great Dane should be thoroughly obedience trained when young so it will be manageable when fully grown. It may be stubborn, but early training will help alleviate this problem.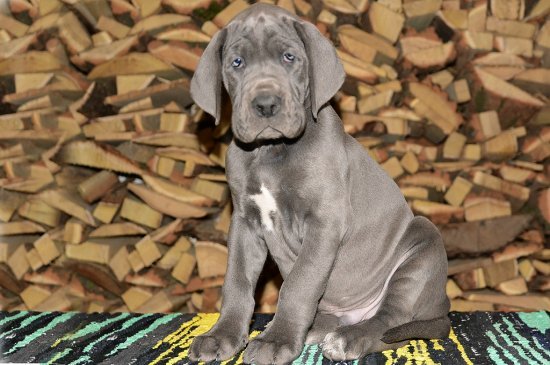 It is important to teach this giant dog not to lean against people, especially children.It may be dog aggressive, especially with same sex dogs. It is good with other dogs if it is raised with them from puppyhood. The Great Dane truly loves the comforts of home and you may find it sleeping in your big easy chair. This breed needs plenty of exercise, minimal is a long daily walk.
Colores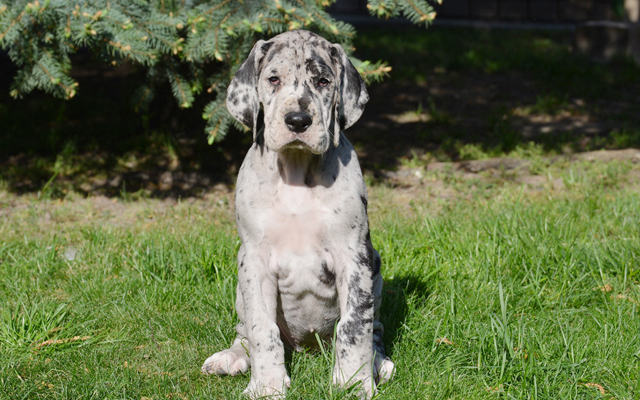 Brindle, fawn, blue, black or harlequin.
Abrigo
Short, dense, smooth, sleek. The coat is easy to groom. Comb, brush and dry shampoo when necessary. Keep nails trimmed. Comb and brush with a firm bristle brush and dry shampoo when necessary. This breed is an average shedder.
Problemas de Salud
The Great Dane is not a long-lived breed. Beware of hip dysplasia. To help prevent the chance of hip or elbow dysplasia developing make sure your dog is on a healthy, well proportioned diet, and avoid excessive running and jumping while still a puppy as this can be hard on the developing joints. Do not jog with this dog until it is at least one year old. Be aware that due to their size they have an increased chance of bloat, leading to a twisted stomach, feed two or three small meals a day, instead of one large one. Tumors, heart disease, and tail injuries can occur.  To minimize the risk of your Great Dane developing any hereditary health issues, you should buy a Great Dane puppy from a reputable Great Dane breeder.
Condiciones de Vida
A Great Dane will find apartment life acceptable as long as it is given sufficient exercise. It may be relatively inactive thus a home with a large yard would be better.
Alerta de perros nuevos
Alerta de perros nuevos por raza