Terrier de Trigo de Pelo Suave Descripción de la Raza
Expectativa de Vida
12-15 años
Grado de Aprendizaje
Alto
Tamaño de la Camada
4 to 8
Peso
Perros: 35-45 libras
Hembras: 30-40 libras
Altura
Perros: 18-20 pulgadas
Hembras: 17-19 pulgadas
Grupos
AKC Terriers
FCI Group III.: Terriers
TKC Terrier
Otros Nombres
Wheaten Terrier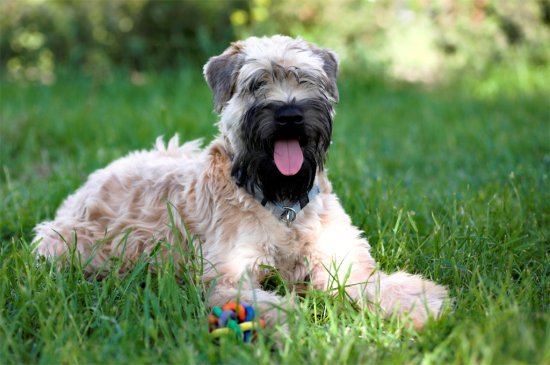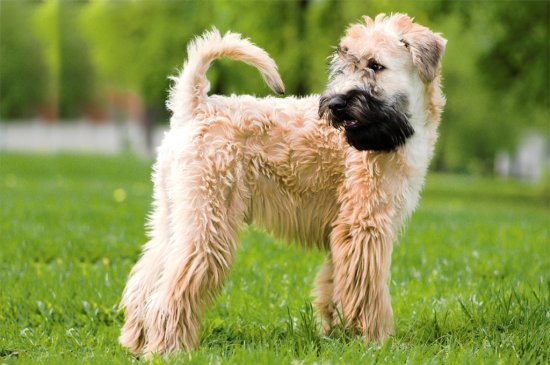 This breed was used as a farm dog, herder, and hunter of small game and vermin. It is a playful and friendly terrier.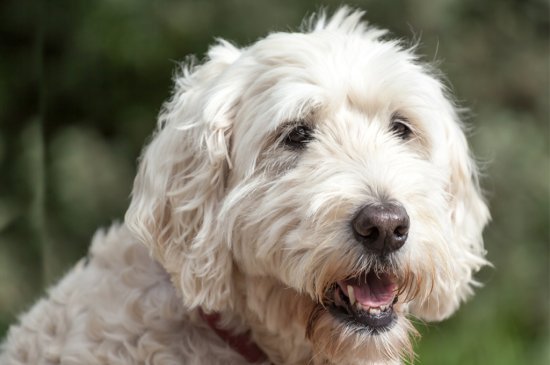 The Soft Coated Wheaten Terrier is an alert and happy animal; it is graceful, strong and well coordinated. It is usually very loving with children. This dog is sweet-tempered, easy-going and self-confident. The Soft Coated Wheaten Terrier bonds extremely closely with its family; seldom barks unnecessarily. It makes a great watchdog.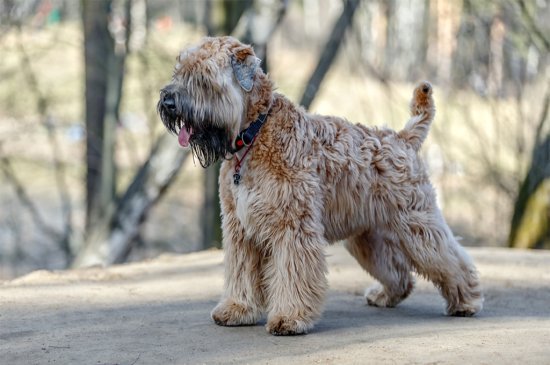 Though not as aggressive as many other terriers, males may be combative with other male dogs if challenged. Usually it gets along well with other dogs, provided it is well socialized at an early age. It does not get along well with cats. This dog is very intelligent, so it will generally grasp quickly what is required of it. This breed has a straightforward nature and needs to be handled in a straightforward manner. This dog has a puppy attitude that remains with it throughout its life.
Colores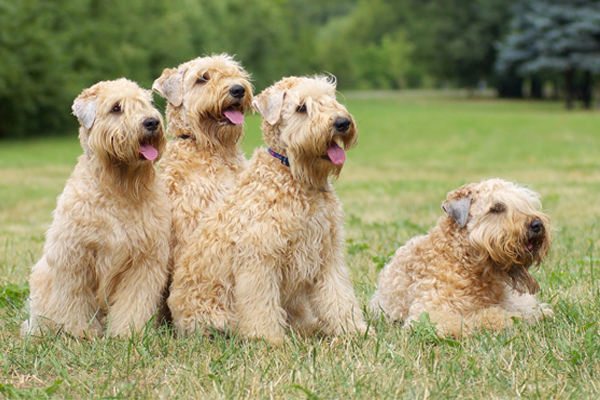 Puppies are born black, but lighten to the final adult wheaten color by about two years of age.
Abrigo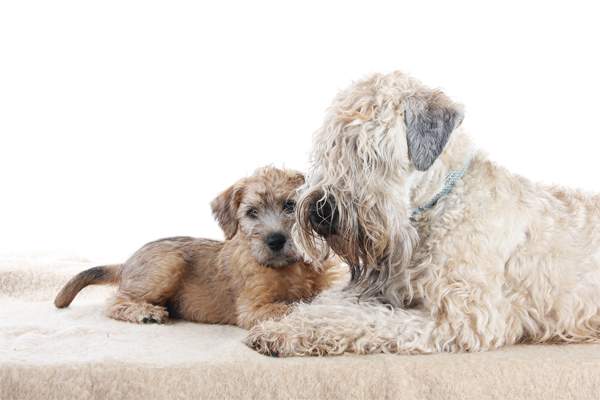 The coat is abundant, medium-long and falling in waves. Brushing can make the soft coat fuzzy, so using a brush is not recommended. Instead, frequent, even daily combing of the long, profuse coat with a medium-toothed comb is recommended to keep it free of tangles, beginning when the dog is a puppy. This breed does not shed in the spring and fall, but loose hair should be combed out of the coat from time to time. A well-groomed dog will shed very little. This breed is good for allergy suffers.
Problemas de Salud
Soft-coated Wheaten Terriers are generally a long-lived breed.They are susceptible to various heritable diseases, although are most known for two protein wasting conditions: protein-losing nephropathy (PLN), where the dogs lose protein via the kidneys; and protein-losing enteropathy (PLE), where the dogs fail to fully absorb protein in their digestive tracts, causing it to pass in their stool.  To minimize the risk of your dog developing any hereditary health issues, you should buy a puppy from a reputable breeder.
Condiciones de Vida
The Wheaten is ideal for those living in an apartment, as it is able to obtain a good amount of exercise indoors or in a small yard. This breed, however, doesn't respond well to heat. Though it can survive outdoors in moderate climates, life indoors (possibly with air conditioning) is most suitable.
Alerta de perros nuevos
Alerta de perros nuevos por raza