Our promise to everyone
"we put the life and health of our puppies above all else"
Learn more about Euro Puppy
Euro Puppy is providing families worldwide with puppies they have never seen in person. It is an enormous responsibility and one we take extremely seriously. That is why over the years we have developed, maintained and grown relationships with professional and honest breeders. Our team is constantly travelling and visiting these breeders, to select their very best puppies and taking photographs and videos for our dog lovers to see.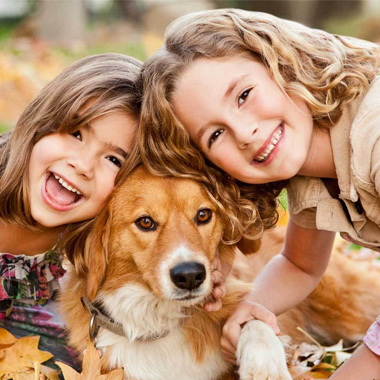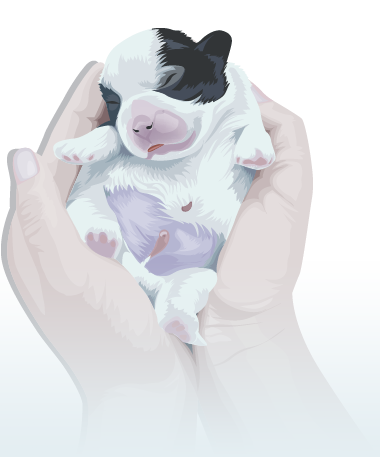 Once a family chooses their puppy we take upon ourselves the responsibility of giving the puppy all its vaccinations and ensuring it has a clean bill of health before it is sent to them. We prepare all the necessary documentation and arrange the shipping of the puppy to any major airport in the world by air, or on the road within Europe. We only take the puppies away from their mothers at the latest possible time so they don't have to get used to a temporary environment before they join their new, forever families.
But not only that, we have another duty. To help educate, inform and assist dog lovers through articles and blogs, so that we can continue to improve and assure both responsible dog breeding and owning. This is our promise to everyone, that we put the life and health of our puppies above all else.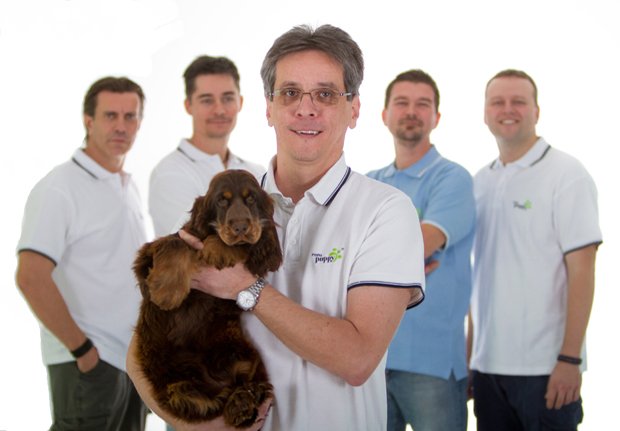 Breeder Relations Team
György Horthy – Breeder Relations Coordinator since 2004
Gyuri is in charge of the smooth running of our Breeder Relations Team, and is the point person for all breeder communication. He is also one of our superb photographers, producing those beautiful photos of our special puppies.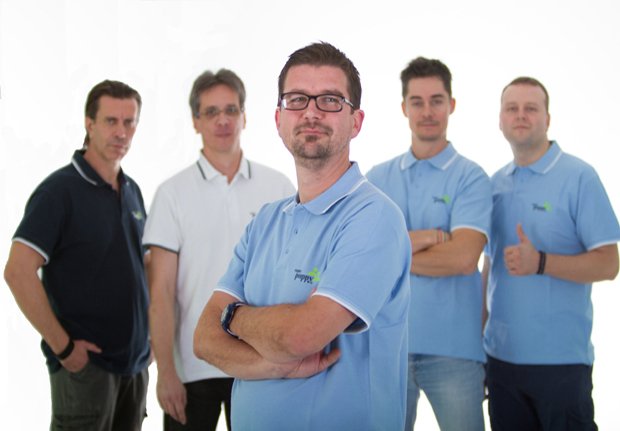 Breeder Relations Team
Pál Nyirán – Breeder Relations Team Member since August 2004
For over a decade now Pali has been out on the road, visiting breeders, checking out the best of their puppies and delivering them to our new dog owners.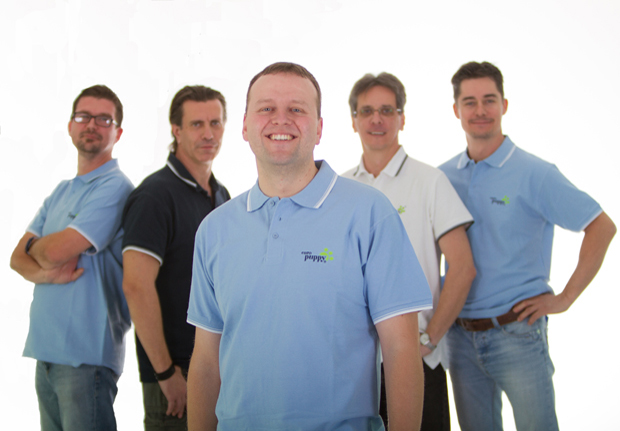 Breeder Relations Team
Tamás Pribránszki – Breeder Relations Team Member since April 2013
The newest member of our dedicated 'on the road' team, Tamas has the lucky role of getting to visit Europe's best and most beautiful puppies every day.
Anette

Dog Trainer

Euro Puppy Team Member since 2021.

Anette graduated as a professional dog trainer in 2016, and since 2019 has exclusively been working in the dog world.

She provides a rigorous, fun and invaluable socialisation and training programme for Euro Puppy dogs. Over the course of 3-4 weeks the puppies stay with Anette, and learn so much, before travelling to their new homes.

As you might imagine, Anette's home is always full of dogs, happiness and excitement! Anette also runs the daycare centre at a local dog school.

Eszter

Pedigree Coordinator

Eszter has been a Euro Puppy team member since 2021.

Almost all the dogs on Euro Puppy come with a pedigree, and many with Champion winning ones!

Eszter coordinates with the breeders and the kennels club to make sure dog owners get their pups' pedigree.

Eszter also has a much photographed little Cavapoo called Chewbacca.

Gabor

Puppy Concierge

Gabor has been a Euro Puppy team member since 2017.

Gabor has the all important role of assisting our customers with their puppy decision. Most crucially helping to make sure the puppy is a good fit for their home.

He will look into everything a customer requests, and give them all the information needed to make a safe and right choice!

Married to Gina, Gabor has two Samoyeds, an English Bulldog and a sweet little daughter!

Gina

Customer Service Representative

Gina has been a Euro Puppy team member since 2017.

Gina is there for dog owners in that crucial period between reservation and arrival. She keeps them up to date with the latest information, and helps with any questions they have.

Outside of Euro Puppy Gina has her dogs to walk, and her young daughter to raise too! They certainly keep her busy.

Gyorgy

Breeders Relations Coordinator

Gyorgy has been a Euro Puppy team member since 2003.

Gyorgy is in charge of the smooth running of our Breeders Relations team. He is busy making sure they are where they need to be, and that every task required for the puppy's health, happiness and safe travel is being done.

New breeders wishing to see their puppies on Euro Puppy, must go through Gyorgy's rigorous checks first! No Puppy Mill gets past him!

When not at his phone and laptop, Gyorgy is happiest on his motorbike.

At his home, Gyuri's little Havanese dog, Miki, determinedly guards his garden!

Orsolya

Financial Assistant

Orsi has been a Euro Puppy team member since 2015.

Orsi handles all the financial aspects of Euro Puppy. This includes not only Euro Puppy's finances but customer payments, and payments to breeders.

Born and bred in Budapest, Orsi is the proud mother of one son.

Pal

Breeder Relations Team Member

Pal has been a Euro Puppy team member since 2004.

He is one of the dedicated team that is out on the road. His many duties include visiting breeders, meeting puppies, photographing them and taking them for vet checks.

Pal is the primary team member that handles the crucial airport tasks. Including most of the collections from the breeder, and the transfer of the puppy to the expert handlers at the airport.

Robert

Breeder Relations Team Member

Robi has been a Euro Puppy team member since 2019.

The newest member of Euro Puppy's 'on the road' team. Robi is enjoying the best job there is - visiting puppies every day at their breeders home!

Robi is also the principal team member that coordinates with our dog trainers and keeps up to date with their progress.

Robi and his faithful Belgian Malinois have worked on protection training as well as being involved in search and rescue! Other activities outside of Euro Puppy include a voluntary position within the police and fire brigade. He also has shown off his photography skills at numerous dog events.

Sandor

CEO of Euro Puppy

Euro Puppy Cofounder

After studying business management, and working in the hotel industry in the U.S, Sandor founded Euro Puppy in 2001, with his friend Tibor Berzeti. From that day onwards Sandor has been at the forefront of the growth and expansion of Euro Puppy.

A dog lover since childhood, it is Sandor's belief in both dog welfare and supporting the best breeders that have seen these standards infused into Euro Puppy.

Sandor and his family have a Cavapoo puppy called Chewbacca from one of Euro Puppy's top breeders.

Shane

Canine Knowledge Editor

Shane has been a Euro Puppy team member since 2015.

He is the point person for dog owners after their puppy has arrived.

Shane has a love for words and writing, and delights in sharing this through his work. Shane's duties range from writing many articles you can read on the Euro Puppy blog, to handling the social media pages.

Originally from Britain, Shane came to Hungary with his future wife in 2014.

On the weekends Shane can often be found hiking the mountains with his Miniature Schnauzer cross, Lili.

Tamas

Breeder Relations Team Member

Tamas has been a Euro Puppy team member since 2013.

Tamas is visiting breeders and their puppies daily, both before and after they are advertised on our page.

Tamas, when not on the road, is the most likely to be making calls to the breeders to make sure all the information seen on the website about the puppies and breeders is detailed, accurate, and up to date.

Tibor

Operations Manager

Euro Puppy Co-founder

Tibor handles all the logistics for the puppy's travel. But it is not as simple as that. He also oversees everything required after a dog is reserved. This includes booking flights, preparing paperwork, and organising the mandatory jabs.

Tibor is one of the most experienced individuals in Hungary in regards to live animal shipping. He has one of the most crucial roles at Euro Puppy. Without Tibor you could still order a dog, but you wouldn't receive it!

When not at work, Tibor can be found playing with his big German Shepherd Dog called Zeus, and he is a proud father of three.