Dog Care
7 Best Types of Dog Hiking Boots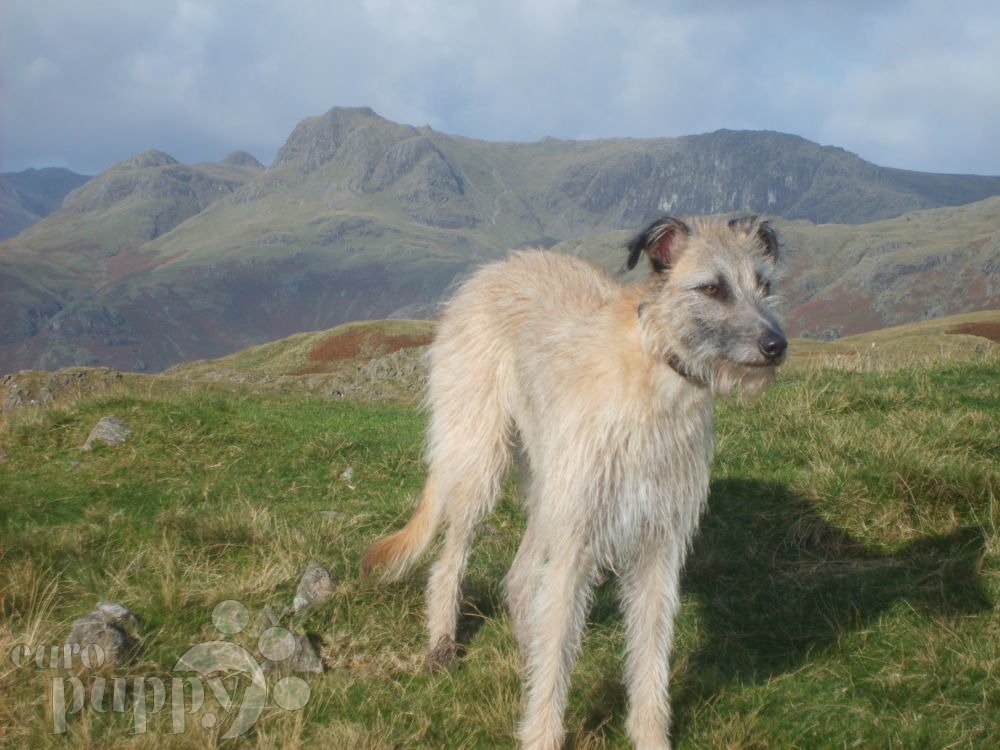 Are you planning to take your pet pooch out for a day-long trail without protecting his cute paws? Well, then it is not a good idea, as, like human feet, their paws are also very sensitive. Thus it is an excellent idea to invest in your pooch's boots, for hiking or walking on rough trails. A good pair of dog hiking boots will keep their paws well-covered and protect them from getting any scrapes and cracks. Purchasing them might be a bit time-consuming, as you will always want the best of the qualities in one type of dog hiking boot. Find below the seven best types of hiking boots meant for your lovable buddies. These 'smarty seven' hiking booties are just perfect for your handsome and adorable pet partner.
⦁ Durable Dog Boot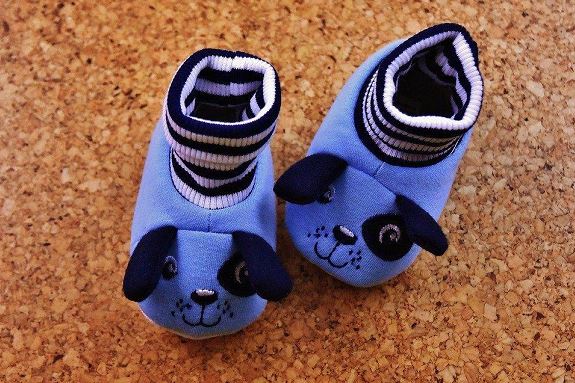 https://pixabay.com/photos/baby-shoes-boy-blue-dog-cute-2050828/
The durable boots come with a couple of Velcro attachments, making it easy for your pooch to wear in their paws and move around freely. They are made of water-proof material, having an 8mm thick inner-sole. You can use them for protecting your pooch's paw during severe cold winter months or while taking a walk outside. This is an excellent option for your pooch when you plan to go out on a day's hike.
Their anti-skid and scratch-proof material are best for all types of hiking trails. Your buddy will never feel any irritation or obstruction while wearing them on a hike with you. Always purchase a size larger than your pooch's paw, to cater for smooth movement. You should initially measure their paw. Do this by placing their leg on a piece of paper, and give a slight pressure to make the perfect impression of their paw. It really helps to provide the right size.
Later, with the aid of a measuring tape, measure the width. Purchase a size, big enough to fit their paws, with a bit of 'leg-space' inside. Always purchase a couple of different sets for them to get the best fit. Sometimes, there are chances of significant size variation between two paws!
⦁ Water-resistant Dog Boots
These water-proof dog boots are good-quality, high-end rubber material, which is entirely eco-friendly. They look like a pair of socks, inside which your adorable pet pooch can slip in their paws. And it never consists of any zippers or  clasps. It comes under the top brands for dog shoes catering for a lot of protection and pulling-power, and your dog never feels restricted.
They keep on feeling comfortable while out walking or hiking with you. These water-resistant boots have a pocket-friendly price, so you should easily afford to buy them. Moreover, being available in a pack of twelve, you will hardly face any issue if your furry buddy loses one!
⦁ Designer Hiking Dog Boots
These designer hiking dog boots very much come under the fashionable range, looking very similar to a human hiking boot. The thick and anti-skid outer sole has breathable gaps inside, with a tightly-woven mesh on the top. These boots come with a front opening and use velcros to grip around your pooch's ankles, making it easier for them to wear. A zip-cord lock is also present for added comfort. Moreover, the reflecting strips on the hiking booties make it more visible in the dark or in low-lit areas.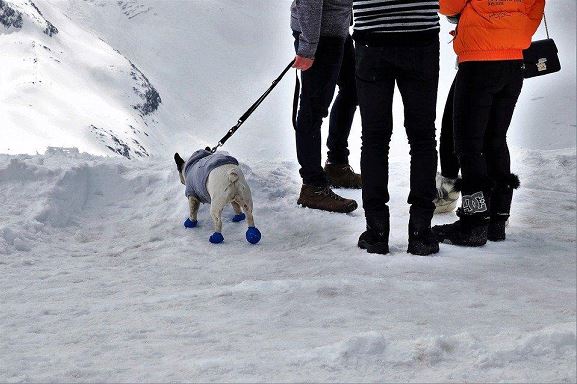 https://pixabay.com/photos/dog-conversation-on-a-leash-shoes-3311925/
These dog hiking boots come accompanied with a nylon covering, along with a slip-resistant outer sole made of suede leather. The fleece lining has a polyester covering, making the entire boot a high winter suitable gear! With all these materials, this particular hiking boot will keep your buddy's paw warm and comfy, even in harsh winters. They can easily access the snow, ice, or salt, without any hassle. The entire set of hiking boots are light-weight, so it will never pressurize their feet. Make sure to secure them tightly with the aid of Velcro straps.  Watch your four-legged furry pooch move with style!
These are not typical hiking boots, but aim to keep your dogs paws from cracking and breaking. You apply the wax-based cream, which gives 100 percent moisturizer to their paw pads. It creates a precautionary layer in-between their cute paws and the ground they will be walking on. The lubricating agent on the wax protects and absorbs very quickly, and it is all-natural and organic. And your buddy will never lick them after you apply it.
It protects their paws from all kinds of cuts and nicks while acting as an outer layer from the heat and cold outside. The Vitamin E in them moisturizes their paws, making them less prone to cracking or breaking. Moreover, this balm protects your pet from all the chemicals used to melt ice during winters.
⦁ All-size Dog Boots
These hiking boots are just perfect for your buddy if they are most keen on exploring outside during harsh winters! These keep the paws warm while protecting them from sliding.
The size guide caters adequately for all breed types. For example the size 2 is just perfect for Pugs and other small breeds. While size 8 suits German Shepherds, Burmese Mountain Dogs, or other large breeds. These relaxing, robust, and skid-proof hiking boots keep your pooch's paw soft and healthy.
⦁ Ultimate Trailing Dog Boots
The ultimate trailing dog boots really are the ultimate ones for your pooch and they can wear them while hunting and hiking. The skid-proof rubber outer-soles protect your pooch's paws from any small and sharp-edged rocks, as well as snow. They are water-proof too! The hiking boot comes with a small pore that helps their paws to breathe. The very best thing about these hiking boots is that they come in two different sizes. One pair fits perfectly for the front paws, while the other fits perfectly to his hind legs. The Velcro closure keeps these hiking boots in place.
Paws Alert
While choosing the hiking booties for your adorable pet pup, you should be conscious of their comfort factor above all else. The hiking boots are all user-friendly while catering to a good fit for their paws. Opt for one size bigger than your Fido's paw. It will enable them to move around comfortably, without any swelling in the paws. Purchase the boots with outer soles made of thick and skid-proof material. These characteristics prevent any damage to their legs when they are out hiking in rocky terrains.
One last tip! You must also give your pup some time to adjust in the new pair of boots before planning a day-long hike.
Disclaimer:
Euro Puppy is a participant in the Amazon Services LLC Associates Program, an affiliate advertising program designed to provide a means for sites to earn advertising fees by advertising and linking to amazon.com.