Euro Puppy Reviews
We have more fantastic, and fun reviews on our Facebook Page and the Euro Puppy Club on Facebook. Have a look now at our most recent photos, videos and stories sent to us by Euro Puppy dog owners; loving life with their Euro puppy.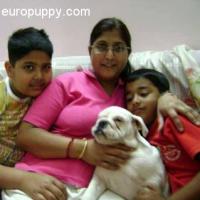 Hi Eddie, Thank you so much for arranging Carina for us. She is an outstanding girl .Carina possesses such a sweet nature and she has got tremendous show potential .Honestly , she is beyond our imagination .She is very playful. I will also like to thank the enyire team of Euro Puppy for the excellent service provided. Please find attached a few photographs of Carina at her new home. Regards, Partha
Hi Mario,Me n my brother Vibhav got Kwein from europuppy last year.He seems to have settled well in India .We are sorry we couldn't send u his pics and update you earlier.We have named him VEER (means 'The Brave' in Hindi) .He's doing great and is one of the best things that ever happened to us.Thanks to you again.Here are few of his recent pics. I would love to have his blog on europuppy. Kindly guide me about the procedure […]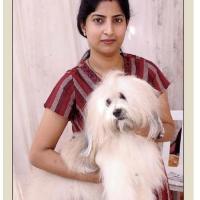 Eddie, Greetings from India. Its been just over 45 days since I received the Havanese puppy and I wanted to drop you a quick note to let you know that the puppy is doing really well(attached are his recent pictures). We are very happy with him and hence, have named him "Happy". Thank you for all the support provided during the process. Cheers,Sarvotham Hi Eddie, Just wanted to let you know that I showed my Havanese dog this past weekend […]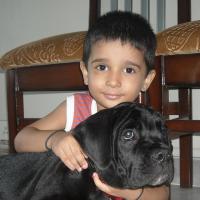 Hi Eddie, We got our Cane Corso puppy on the night of 22nd July 2010, after he had a long flight. He is a great looking pup and very playful. My kid and he are playing like buddies although he's been with us for only a day. We didn't expect him to be so big at just 10 weeks, he going to be a huge dog. We have named him "Masimo" (Italian: meaning Greatest). So we just need to be […]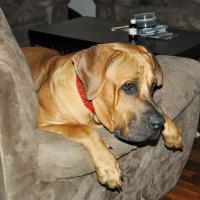 Mr. Eddie, Myself Disha, hope you remember about Kensha. We want to share few pictures of Kensha with you. Kensha is really sweet and cute she is my daughter and she is sweetheart. Now we shifted to central America from India and kensha is also here with us. She is so beautiful we are really thankful to you for Kensha Thanks & Regards Disha, Mumbai, India (Originally)
Adopt from Euro Puppy to have your very own dream puppy
that will complete your life!