Beschreibung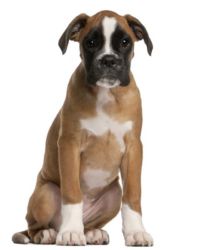 Lebenserwartung
10-12 Jahre
Reihenfolge
Hunde: 60-70 Pfunde
Hündin: 53-65 Pfunde
Höhe
Hunde: 22-25 inches
Hündin: 21-24 inches
Ursprungsland
Germany, 19th century
Gruppen
AKC Working Dogs
FCI Group II.: Pinscher and Schnauzer- Molossoid Breeds - Swiss Mountain and Cattle Dogs
TKC Working
Andere Namen
German Boxer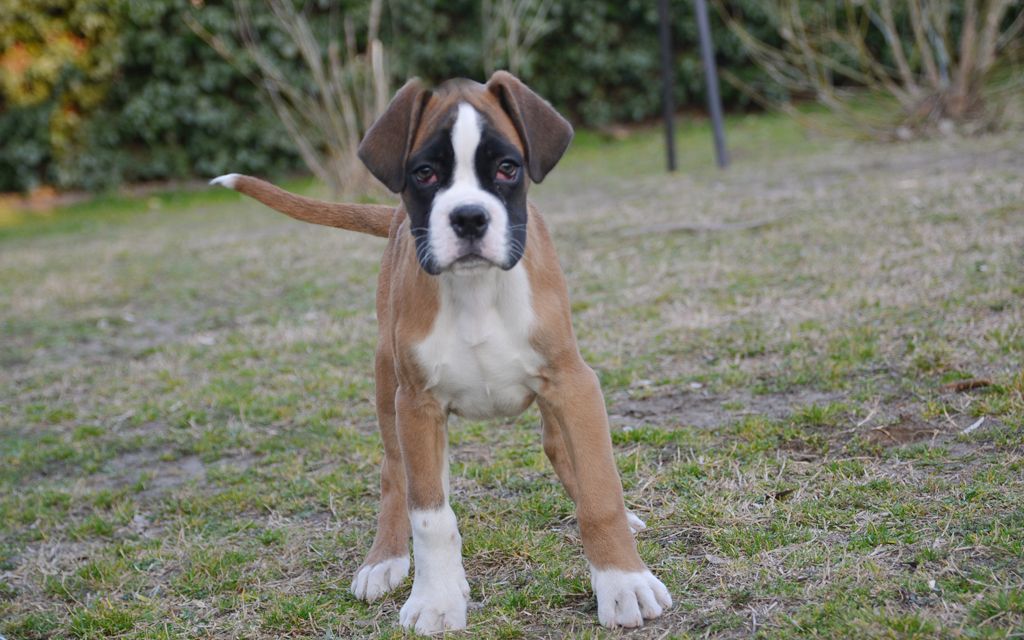 Der Boxer ist ein mittelgroßer, gut ausgewogene quadratische gebauter Hund von guter Substanz mit kurzer Rücken, starke Gliedmaßen, und kurze, enganliegende Jacke. Es ist stark und dick muskulös, mit einem kurzen Mantel und eine kupierte Rute. Es ist eine energetische, aufmerksam und widmete Hunderasse. Es ist sanft und geduldig mit Kindern, es ist verspielt und neugierig.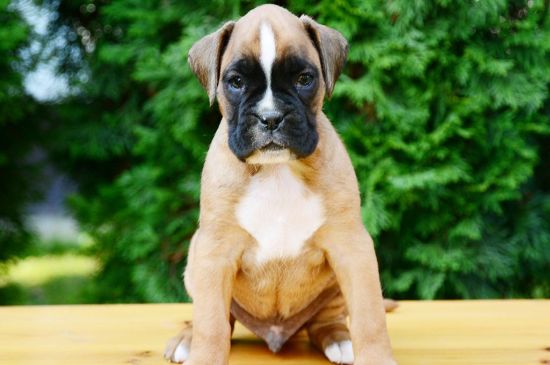 Diese Rasse ist sehr intelligent, eifrig und schnell zu erlernen, kann aber hartnäckig und hinterhältig. Es ist loyal und liebevoll. Dieser Hund benimmt sich gut mit anderen Haustieren, ist aber zurückhaltend mit fremden Haustieren und Menschen, die es ein guter Wachhund zu machen. Boxer Hunde zu züchten vereint Kraft und Beweglichkeit mit Eleganz und Stil.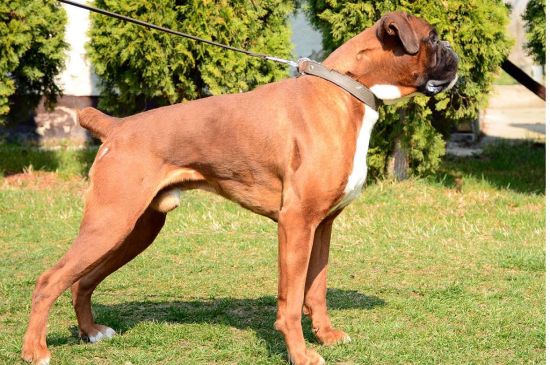 Mit Familie und Freunden, ist sein Temperament grundlegend spielerisch, ausgelassen, aber geduldig und stoisch mit Kindern. Der Boxer braucht viel menschlicher Gesellschaft. Dieser Hund ist bewusst und vorsichtig mit Fremden, wird es weisen Neugier, sondern vor allem furchtlosen Mut, wenn bedroht.
Seine Intelligenz, loyal Zuneigung und Lenkbarkeit zu disziplinieren machen diesen Hund zu einem begehrten Begleiter. Wenn der Hund gut sozialisiert ist es versteht sich gut mit anderen Haustieren. Die Boxer der Natur ist es, Sie, Ihre Familie und Ihr Haus zu schützen. Es ist immer daran interessiert, arbeiten und spielen. Es kann ziemlich ausgelassen und auch im Alter noch sehr sportlich.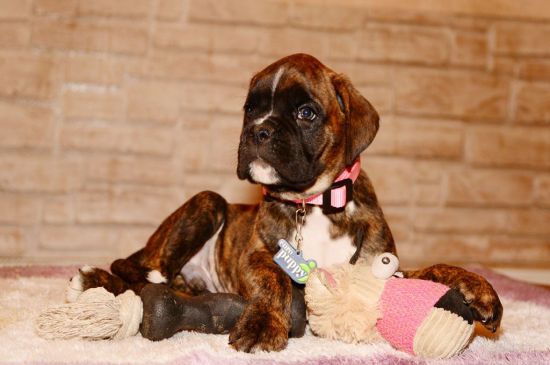 Boxer liebt es, zu springen, lehren es nicht zu stürmisch und vor allem nicht zu springen an Menschen.
Diese Rasse macht einen großen Wachhund, ist es für den Mut zur Kenntnis genommen. Der Boxer hat einen breiten Einsatz in militärischen und polizeilichen Arbeit. Es muss strenge und konsequente Ausbildung in jungen Jahren. Diese Rasse braucht eine dominierende Eigentümer. Der Boxer erfordert geistige und körperliche Anstrengung und ist nicht für Leute, die locker und langsam in Bewegung sind empfehlenswert.
Colors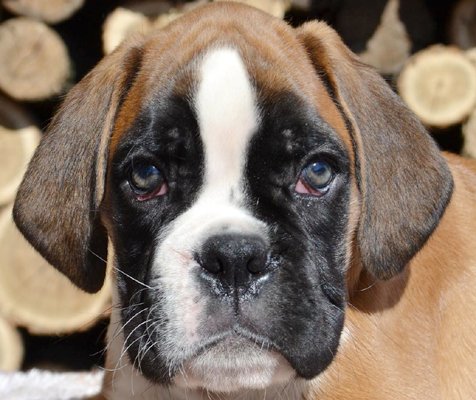 Gelb und gestromt mit weißen Abzeichen.
Coat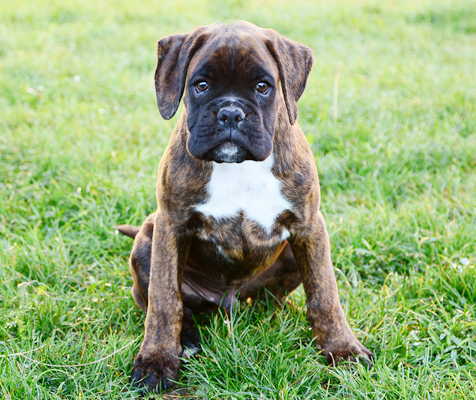 Der Boxer hat kurze und glatte Fell, das eng am Körper liegt. Sein Fell braucht nur gelegentlich zu bürsten.
Gesundheitsprobleme
Einige der wichtigsten Anliegen sind Kardiomyopathie, Sub-Aortenstenose, und Hüftdysplasie. Der Boxer ist manchmal anfällig für Epilepsie und Steifigkeit der Wirbelsäule mit fortgeschrittenem Alter. Ab dem Alter von acht auf sie eher erkranken als andere Rassen zu bekommen. Es hat eine Tendenz zu Allergien, auch Herzprobleme. Diese Rasse kann drool und schnarchen. Zur Minimierung des Risikos der Boxer entwickelt eine der erblichen Gesundheitsprobleme, sollten Sie einen Boxer Welpen von einem seriösen Züchter Boxer kaufen.
Lebensumfeld
Der Boxer wird in Ordnung in einer Wohnung, wenn ausreichend ausgeübt. Es ist ziemlich aktiv im Innen-und gedeiht am besten mit mindestens einem durchschnittlich großen Hof. Diese Rasse ist am besten in gemäßigten Klimazonen wie die Rasse einfach entspannen kann bei kaltem Wetter und hat Schwierigkeiten, abzukühlen in sehr heißem Wetter. Der Boxer muss täglich üben.
Welpen zu Verkauf nach der Rasse


Warning: count(): Parameter must be an array or an object that implements Countable in /var/www/www.europuppy.com/wp-content/themes/europuppy_wp/single-breeds.php on line 351

New Puppy Alert
Seien Sie vor Allem, wenn eine neue Boxer Rasse zum Markt kommt.
by signing up to our Puppy Alert.