Euro Puppy Reviews
We have more fantastic, and fun reviews on our Facebook Page and the Euro Puppy Club on Facebook. Have a look now at our most recent photos, videos and stories sent to us by Euro Puppy dog owners; loving life with their Euro puppy.
Dear Lasheika, Thank you for Checking in on us and Maximus. He is everything I could wish for! He's perfect in so many ways and reminds me so much of my Massimo that passed away. Y'all have gave us the love of our lives a few times and I want to thank you and the breeders. We renamed him maximus and he already knows his name he already knows sit and kisses. We are working on the potty training which […]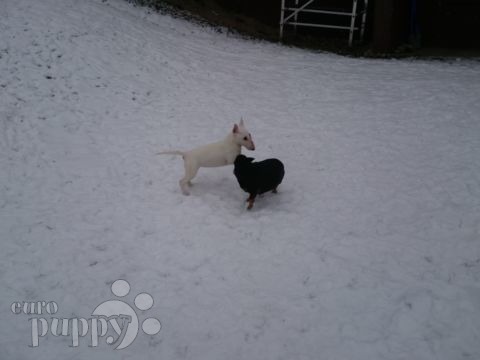 Hello Steve after a long time.. I'm sorry that it take for so long that I contacted. pup is really well and in good condition .. she's really energetic, initially felt that way too energetic for our pack but she has already calmed down so much,shes energy was like combination &;two of my last dog when they was puppies, all my dogs was little puzzled about her because of that.I have now show her place in our pack at the […]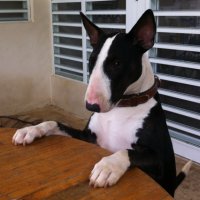 Thought you would like the photo, this Reina which means queen in Spanish she is simply beautiful and very affectionate !!!!!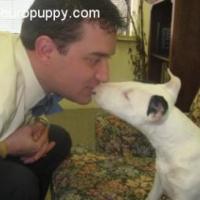 Eddie, We got the puppy, and she is just beautiful!!This is a pic of Brad and Zoe. Here are some more pics too of her in the office with staff. Thank you,Carie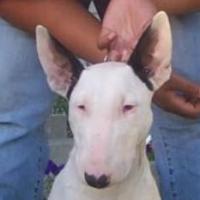 HELLO EDDIE, HERE IS A PICTURE OF GALY. THE BULL TERRIER THAT I GOT FROM YOU. I STILL HAVE TO REGISTER HER. I HAVEN'T HAD THE CHANCE TO DO THAT YET. STILL LOOKING FOR A SHOW DOG WITH SHOW PARENTS BUT FIRST I HAVE TO SELL THE PUPS I GOT FIRST.GALY HAS A GREAT TEMPERAMENT!SHE IS GREAT TO BE AROUND. SHE IS A VERY LOVING DOG AND LOVES PEOPLE! THE PICTURE OF HER IS 7 MONTHS. THANKS,CHAREE DISCENZA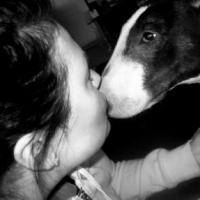 Hello! I got the bullterrier puppy last summer. And would like to create the blog for her. How do I do it? She's feeling absolutely great. Very kind and smart girl! Interested of everything that moves and doesn't move:D Watches tv with me. Likes rabbits, and starts to "cry" when they jump away and don't play with her. She also likes kids a lot but naturally I wont allow her to go near cause of her muscelar body can be […]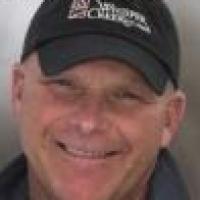 Hi Eddie I guess no news is good news. Yes Europe has arrived safely,and we just love her.She had her vet check-up today and she has a clean bill of health.As far as I can tell I'm supposed to report this to you. I guess that is all for now.I will talk to you when I get the paperwork on her later.I can't thank you enough for all you have done. Thanks again Joe & Carrie Heaps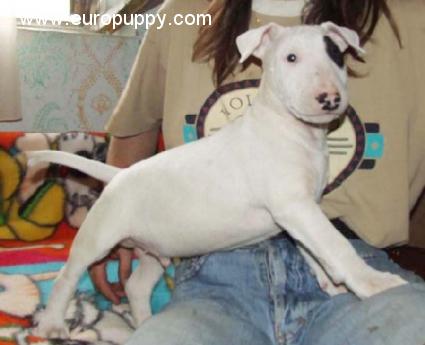 Hello! I picked Samer up at the airport yesterday, when we let him out of the crate he was just a bundle of energy!! I swear he's part frog! When we got home we played with him in the yard, he really likes tennis balls! Then Samer got a bath, and I was so surprised at how well behaved he was. From the pictures you see, after that, Samer was pretty tired after that. Everytime we would leave the room […]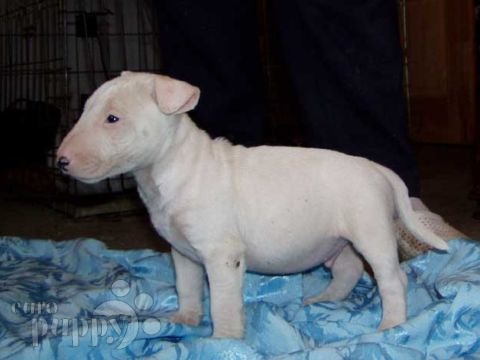 Well Sandor what can I say. Active,chewing, and barking. We have a 3 year old and a 15 month old baby. We adopted them both. One of the puppies pulled John's pants off. We are going to have some fun. The trip went fine and they seem to have lots of energy!!!!!!! We are going to the vet tomorrow. Sandor, I must say I was a little concerned at the beginning. Sending money over to another country and not even […]
Adopt from Euro Puppy to have your very own dream puppy
that will complete your life!