Euro Puppy Reviews
We have more fantastic, and fun reviews on our Facebook Page and the Euro Puppy Club on Facebook. Have a look now at our most recent photos, videos and stories sent to us by Euro Puppy dog owners; loving life with their Euro puppy.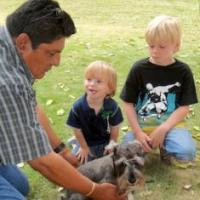 Hello Eddie, Today was our dogs second dog show and it went well. Max, the MiniatureSchnauzer won 2nd place in the puppy division. Oso, the male English Mastiff, won Best of Breed, Best in Group, Best inJunior and 4th in Show. Eddie I need to find an English Mastiff, female, like Oso with Show quality,can you please find out with the breeder of him a female. Regards,Ramiro Ortiz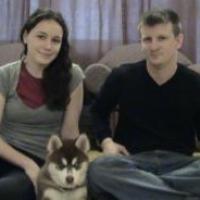 Hello Eddie, We picked up Igloo from the airport Friday with no problems. We were so excited to see him! After sleeping most of the day he got up the next morning ready to play. Igloo has been chasing the ball around the yard and chewing on his rope toy ever since. Thanks,Mason and Kattie Trantham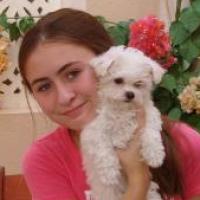 Hi Mario, Here is a picture of our beautiful Bolognese puppy "Daisy". She is an absolute joy and is so full of fun. She arrived at our home after a long flight to Qatar, and bounded out of her crate, tail wagging ready to play. She is so funny, she grabs her toys and runs like crazy around the room wanting someone to chase her.Even our cat allows her to sleep next to him, he can't quite figure out where […]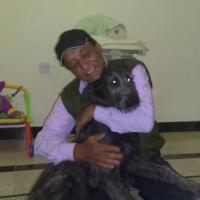 Eddie, It's been difficult to get decent pictures of him as he never stays still or if he does, he's trying to get cuddles on your knee. His character was the most important pointmost health issues can be worked around and ultimately underweight is better then over weight at this time in his life. I have to say his character(which as you know is a real priority for my family, we have a young child) is prefect, he's learnt to […]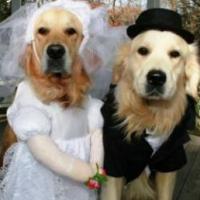 Hi Mario, Hope all is well with you. Wanted to send you an update of two of our kids getting married this week on Beech Mountain, NC. The flower girl is our youngest who turns one in a week. .Zoe, Tony, and Bella have fun swimming in the pool everyday in Florida and chasing the deer and playing in the snow in the mountains. Thanks again for our beautiful kids. We have really enjoyed them. Best Regards, Lori and Gary […]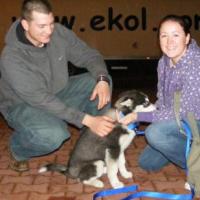 Hey Eddie, We received her yesterday night and we have decided to call her Alice…just got back from the vets about an hour a go, she is good and healthy…if there is anything else you need from us just let us know….thank you for all of your help and happy holidays. Thanks,Shawna and Lance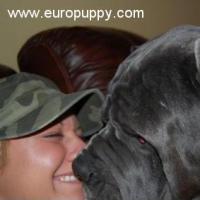 Mario- I just wanted to thank you again for helping with the process of getting my baby home! Dante, as we call him, is doing very well. His ears were cropped about three weeks ago and have healed very nicely. He is almost 5 months and is 65 lbs- and I'm keeping him pretty thin right now! He is doing great with my other dogs and loves to go to my work with me and get loved on. I am […]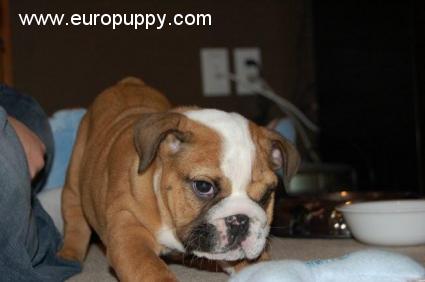 Hi Eddie, I just wanted to let you know that we have Choopy. You were right; she is sooo much better in person!!!!We took her to the vet today and he seems to think shes just fine health wise, I did find one flea on her but all seems fine now. She is eating her first meal at home and is enjoying it in between pouncing. She will be going in for her needed boosters in a couple weeks! So […]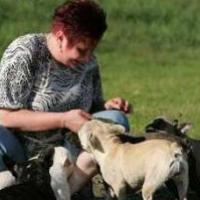 Hello Eddie, I hope that you are very fine. In December we bought the little blue-fawn-frenchie from you.I am very happy with her. She is such a little playful and snuggle-dog,she is everybody's darling. Today I want to send yo a picture.One of Laguna (blue-fawn) Please enjoy the pictures.I will send you some more next time. Helma and the bullygang from Germany Hello Eddie, First – I want to send you friendly greetings from Germany. Today we had a great […]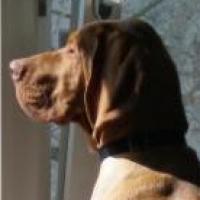 Mr Eddie, Here are some pictures of Hoss (Almos) that we got from yall last December! He is such a good dog! And a very fast learner! He is growing very fast and is now almost 7 months old.He has learned how to fetch sticks and toys. He plays very well with other dogs and is great with children! We love Hoss very much and we are so glad that we have him in our family! Thank you again Jamie […]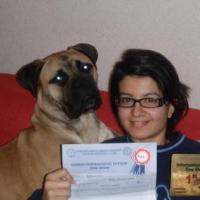 Dear Eddie Here are 2 photos from Adelina in her first show. She had excellent criticism. We got our first BSB. Best Regards, Valentinos Panagi Good Evening Ed, I have some good news. Adelina got her second B.O.B and B.J.O.B! We are very proud :)The Judge said that she has excellent type, excellent feminine head, strong muzzle, excellent mouth, good expression, good neck, enough body of age Friendly,Val
Adopt from Euro Puppy to have your very own dream puppy
that will complete your life!