Euro Puppys Referenzen
Wir haben noch mehr fantastische und unterhaltsame Bewertungen auf unserer Facebook-Seite und im Euro Puppy Club auf Facebook. Schauen Sie sich jetzt unsere neuesten Fotos, Videos und Geschichten an, die uns von Euro Puppy-Hundebesitzern zugesandt wurden und die das Leben mit ihrem Euro-Welpen lieben.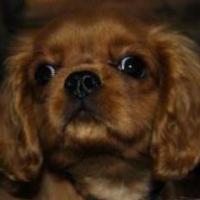 Hi Eddie! I know that my husband and I told you that we didn't want to get the papers on him. We've changed our minds. He's show material we believe (and so does a lot of other people!) as a matter of fact, we took him to Neuschwanstein Castle in Germany just a few days ago and everyone wanted his picture. We decided that we may want to show him. How can we go about getting the paperwork? I know […]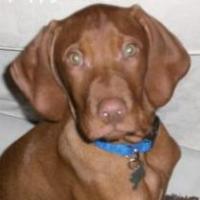 Hi Eddie, Here are a few pictures of Cooper "Hunor" Isaacson. He is a great dog and a quick learner. Like Eric mentioned earlier, he has been potty trained for several weeks. He has learned to sit by the back door when he wants to go out and to wake us up at night when he has to go also. He knows how to fetch and "aus" or drop it when we tell him to. He can sit, shake, platz […]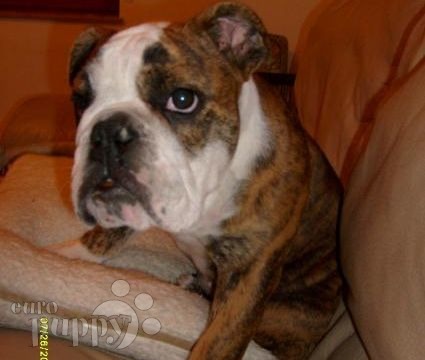 Hello Eddie, I am sorry this has taken me so long to send these! Here are a few pictures of Betsy (changed by my daughter…) She is a great dog. We love her so much– she has adjusted very well to our lifestyle, and to our cats. She also does phenomenal with children. Right now we are house training, which we still have some work to do, but she is doing well. She is healthy, and happy in our house […]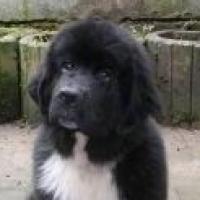 Hello Eddie, I just wanted to let you know that I received Tsunami's paper work this past weekend. Thank you so much. It was a lot of fun to see where he came from. He is doing very well.We have had a few tummy issues but I am hoping that we are past that now. Eric noticed that Victor is going to a home in Germany, please feel free to send the new owners our email address. We would love […]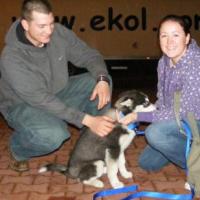 Hey Eddie, We received her yesterday night and we have decided to call her Alice…just got back from the vets about an hour a go, she is good and healthy…if there is anything else you need from us just let us know….thank you for all of your help and happy holidays. Thanks,Shawna and Lance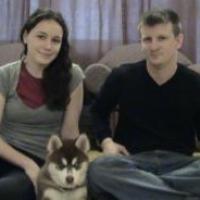 Hello Eddie, We picked up Igloo from the airport Friday with no problems. We were so excited to see him! After sleeping most of the day he got up the next morning ready to play. Igloo has been chasing the ball around the yard and chewing on his rope toy ever since. Thanks,Mason and Kattie Trantham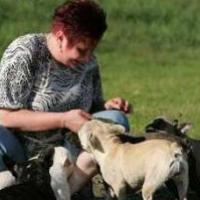 Hello Eddie, I hope that you are very fine. In December we bought the little blue-fawn-frenchie from you.I am very happy with her. She is such a little playful and snuggle-dog,she is everybody's darling. Today I want to send yo a picture.One of Laguna (blue-fawn) Please enjoy the pictures.I will send you some more next time. Helma and the bullygang from Germany Hello Eddie, First – I want to send you friendly greetings from Germany. Today we had a great […]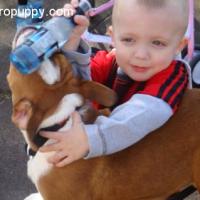 Hi Eddie, I hope that you enjoyed your vacation. Here is a couple pictures of Beckham. That is what we named him and his health certificate is attached also. He is doing well, and getting very very big. We have him in obedience school and he is doing very good. He is really good with the kids to. Thanks for everything. Regards,Camilla Brown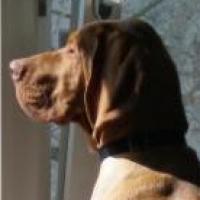 Mr Eddie, Here are some pictures of Hoss (Almos) that we got from yall last December! He is such a good dog! And a very fast learner! He is growing very fast and is now almost 7 months old.He has learned how to fetch sticks and toys. He plays very well with other dogs and is great with children! We love Hoss very much and we are so glad that we have him in our family! Thank you again Jamie […]
Adoptieren Sie von Euro Puppy, um Ihren Traumwelpen zu haben
und Ihr Leben zu vervollständigen.