Euro Puppys Referenzen
We have more fantastic, and fun reviews on our Facebook Page and the Euro Puppy Club on Facebook. Have a look now at our most recent photos, videos and stories sent to us by Euro Puppy dog owners; loving life with their Euro puppy.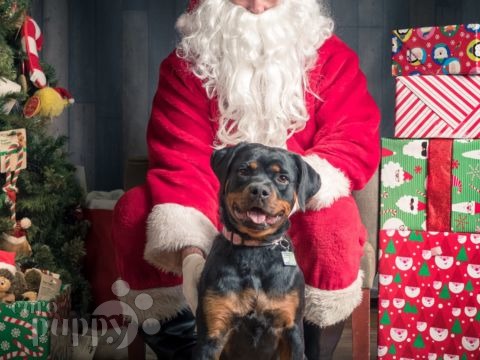 Good evening , It has been several months since Roxy has arrived to her new home and i am proud to provide an update. Roxy is very well and really enjoys her new home. She is very healthy and growing as expected. Two months ago she weighed 57 lbs at 6 months old. She is extremely obedient and is extremely smart. She has learned many commands already and enjoys working hard to learn more. Roxy is very caring and has […]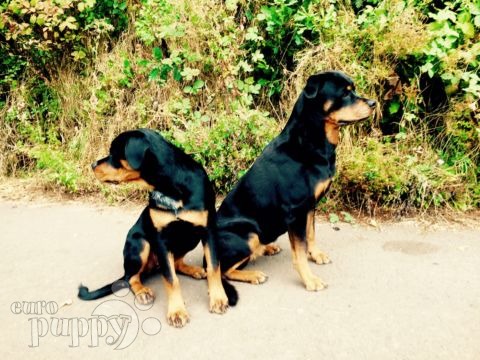 Hello! Brunette is now named Brünhilde (Hilde for short). She's a very healthy, intelligent and happy girl. Thank you for the birthday wishes. She got special treats and a ball to add to her collection today. Attached are some pictures/videos of our wonderful Hilde. Thank you – Michele Tedrick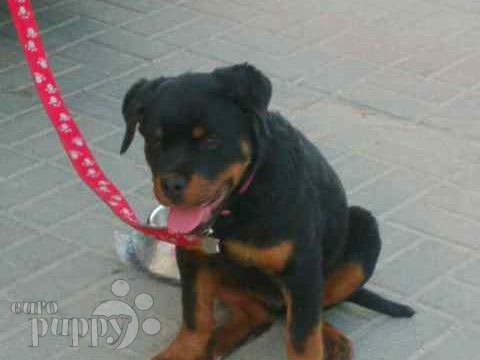 Hi Steve, I received the puppy yesterday evening..what a puppy!! Excellent decision choosing Move One. They are very professional and went above and beyond ensuring safe delivery of the puppy. They even walked the puppy for me until I arrived to pick him up! The crate used was brand new, super clean and in excellent condition. The puppy was also super clean and healthy. It shows that the breeder took super care of him. I was amazed by the puppy's […]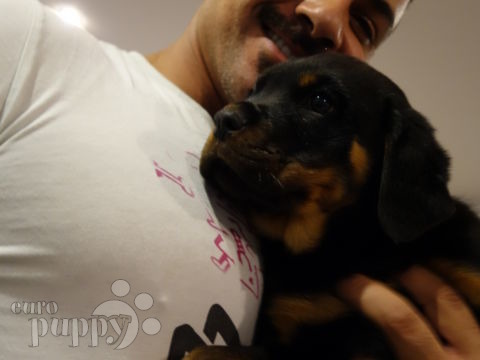 Steve, He is home safe thank you. Thank you again he is a joy. Going to take him to our vet let him say hi. And yes bud I have one comment. Great service and great job. :-). Khaled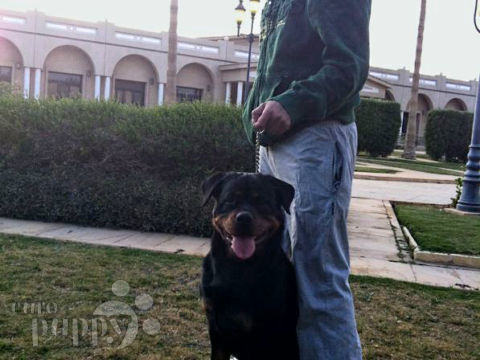 Hi Steve, Some photos of Oris. Many thanks for helping me make it happen, Regards Aziz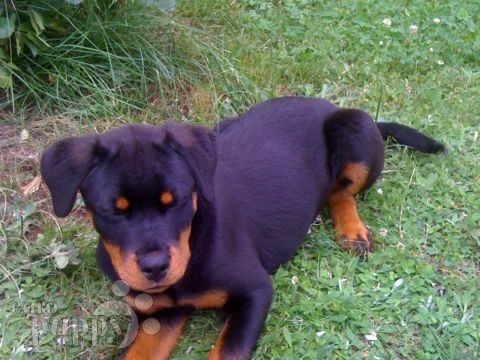 Hello Eddie We are so happy with our new family member, Freyja (named from the Germanic goddess). She is healthy, very smart, & adjusting wonderfully. I had no problems picking her up from Frankfurt airport and the cargo import staff were all very helpful and friendly. She has only been with us for just over 24 hours and already knows the sit command, heels on the leash, and takes in the new surroundings with no fear. She will be cherished […]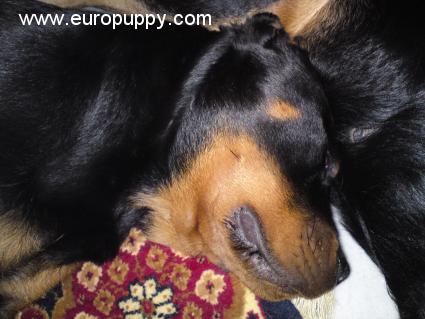 Hello Eddie, These are some photos of the Rottie we bought.His name on your site was Jorgos, but we named him Simba!!!He is getting along just fine with the 7-year old Rottie I told you about. Indeed he is very lively and we need to have him trained!!! I will be sending you photos every few months.Thank you!!Emily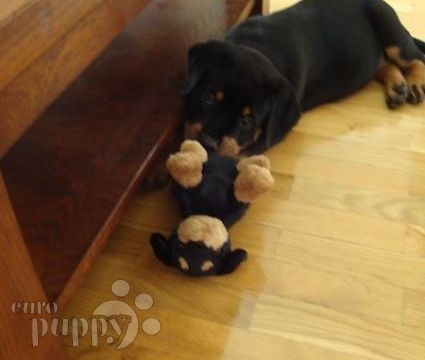 Hello Eddie Gelya is enjoying her home very much here in Baumholder. We just got the hang of the potty training. She is getting bigger everyday. Everyone on post always ask us where we got her from. I am always happy to say Euro Puppy. I attached some pictures of her from the first day she got her to the most recent one of her. Oh and the little rotti she has with her in one of the pictures is […]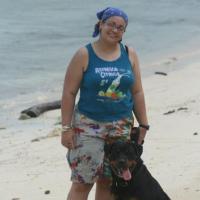 Well I finally got down to The Bahamas to see Gold myself and we've been having a grand time. Lol she loves to bite the sleeve now if she'd just let go -chuckles- Here are some pictures of Gold and I We may try and teach her some tracking once we get everything else tacked down properly.Has she ever done anything along the lines of tracking before? Amy Swaby
Hi Mario: My husband and I purchased a male Rottweiler puppy from you in October of 2006. We just wanted to share with you how he has grown and what he looks like today, a year and a half old. Troy is a very happy, healthy, gorgeous Rottie. Everywhere we go, people always stop us and comment on how beautiful he is and how BIG he is! He is sooo friendly and loves people. We enrolled him in doggie school […]
Adaptieren Sie von Euro Puppy, um Sie Ihren Traumwelpen zu haben,
damit Ihr Leben zu ergänzen!